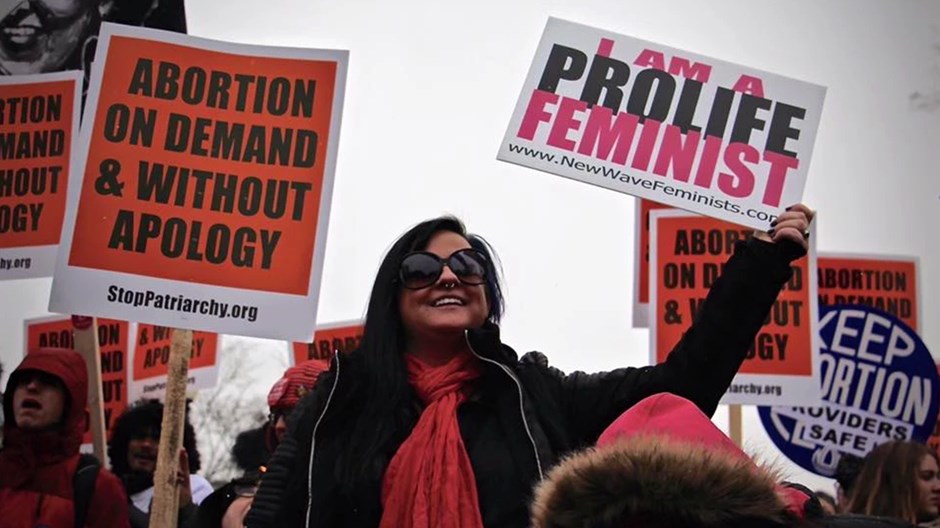 Ahead of the Women's March on Washington scheduled the day after Donald Trump's inauguration, Emma Green at The Atlantic asked, "Is there room in the movement for people who morally object to abortion?" Her article portrayed some of the hundreds of pro-life women planning to attend either in solidarity with fellow feminists or in protest.
Meanwhile, the event organizers came up with their own response: No.
Hours after Green's article published on Monday, the Women's March—promising to be "one of the most intersectional marches in US history" with more than 200,000 attendees expected—stated that New Wave Feminists, the pro-life group featured, would be removed from its 450-plus sponsor organizations. (A pro-life pregnancy crisis center in Idaho, Stanton Healthcare, remains listed as a partner. [Update: The group was also removed from the list on Wednesday.])
"We look forward to marching on behalf of women who share the view that women deserve the right to make their own reproductive decisions," the group said. Access to abortion and birth control were included among 1 of 16 values and principles guiding the grassroots rally.
Though the pro-life New Wave Feminists still plan to attend, many women of faith were disappointed in the decision to remove their official designation. Christians spanning from Life Action founder Lila Rose to LGBT advocate Julie Rodgers spoke out on Twitter on behalf of pro-life feminists.
"Progressives have a chance to build a broader coalition here, and they are blowing it," tweeted author Rachel Held Evans.
"Painful irony of pro-choice stance of Women's March is that abortion was likely THE issue to tip scales for evangelical women to vote Trump," said Hannah Anderson, who writes and podcasts about gender and theology for Christ and Pop Culture. "If Dems could have entertained possibility of a pro-life women's vote, they'd have won."
According to a Pew Research Center report released last year, 40 percent of American women oppose abortion in all or most circumstances, and white evangelical Protestants are far more likely than any other religious group to side against it.
Pro-life evangelical women have long spoken up to advocate for women's positions in the church and society. They mobilized around various pro-women causes in recent years, even when it meant pushing back against Religious Right affiliations. Last fall, top female evangelical authors and teachers like Beth Moore criticized Trump's rhetoric around women and denounced the prevalence of sexual assault. As The Atlantic reported, many pro-life women were just as outraged at Trump; they refused to support his presidency and doubt his pro-life bona fides.
Their common ground with the pro-choice feminists marching this weekend goes beyond a common enemy. Lately, evangelicals have formed organizations to encourage women in the workplace and leadership roles, as well as advocating for paid leave as a family values issue. Christian organizations abroad have rallied to offer women's health care, provide education, and fight the exploitation of women through trafficking, violence, and genital mutilation.
Though the term remains divisive among evangelicals, they have grown more likely to embrace the word feminism. Egalitarians and complementarians alike see the importance of asserting women's equal value in Creation, Laura Turner wrote for CT Women in 2013, as Sarah Bessey released her popular book Jesus Feminist.
So does feminism really come down to a single issue, as march organizers and advocates seem to suggest? Critics of the move to pull the pro-life partnership point out that relying on a woman's position on abortion as a marker of feminism complicates things.
"What I dislike about this is it upholds the false pro-choice/pro-life dichotomy. Lots of people are anti-abortion but don't want it banned," said Elizabeth Nolan Brown, associate editor of Reason, in response to the statement. More than half of adults do not take an absolutist view for or against the legality of abortion, Pew found.
New Wave Feminist founder Destiny Herndon-De La Rosa told the Texas Tribune:
It's not like we're trying to take abortion away. We're trying to get out there and help women and say, "Dude, how can we help women better?" Because it's not pro-choice when a woman goes into an abortion clinic because she feels like she has no other choice.
Back in 2015, CT Women highlighted several Christian women whose faith and feminism inform their pro-life stance. They argue that being pro-woman makes you pro-life, and many of America's best-known early feminists would agree. (Saturday Night Live winked at Susan B. Anthony's position against abortion in sketch last week—albeit in spirit of dismissal.)
Bessey's remarks reveal how much Christian women like her share with the core values of today's feminist movement:
Because of both my faith and my feminism together, I believe in advocating for life, more than ever… I want women to be safe and I want babies to be born. I want all of the reasons why women abort to cease, to be healed, to be legislated right out. So I want equal pay and decent healthcare for low-income women that includes contraception and supportive partners and a wide availability of midwives and supportive birth environments and real material support for children who are differently abled in mind or body and at least a year of maternity leave and on and on and on.
The question over whether evangelicals with counter-cultural stances fit in broader movements similarly came up as some social justice–minded evangelicals endorsed the main thrust of the Black Lives Matter cause in recent years without getting behind the organization's LGBT position.
Intersectional feminism originally and most commonly refers to the overlapping factors of race and gender, and how women of color experience challenges beyond the agenda set by white feminists. But intersectionality applies to factors like religion too.
"Intersectionality simply means that there are lots of different parts to our womanhood," Rutgers University professor Brittney Cooper said in Vox. "And those parts — race, gender, sexuality, and religion, and ability — are not incidental or auxiliary. They matter politically."
The Women's March on Washington references these layers of identity in its mission. A couple mainline churches (Covenant Baptist United Church of Christ, St. Mark's Episcopal Church), a Unitarian Universalist congregation, and two interfaith coalitions are listed as partners.
"We support the advocacy and resistance movements that reflect our multiple and intersecting identities. We call on all defenders of human rights to join us," the statement said. "This march is the first step towards unifying our communities, grounded in new relationships, to create change from the grassroots level up."
Yet, pro-life Christians are frustrated to see their place as fellow defenders of human rights sidelined along with the New Wave Feminists' removal. (A popular meme posted by conservatives in response played off the Mean Girls line: "You can't march with us.")
Is there a place for pro-life women to partner with their pro-choice sisters on areas where they share common convictions: workplace parity, gender-based violence, racial justice, motherhood, and more? The group once pointed to as an example of how the dynamics between feminism and life issues are changing, now seems to be a case of history repeating itself. "If you can't persuade, silence," tweeted Karen Swallow Prior, professor and pro-life activist who recently recalled her own encounter with the limits of liberal free speech when protesting abortion in the 1980s and '90s.
"If the voice of pro-life women is excluded from the [Women's March on Washington], then it is not really a 'Women's March' at all," said Brandi Swindell, founder of the pregnancy crisis center partnering with the march. "Rather, it is an anti-Trump march, a pro-choice march, or a Planned Parenthood march. To truly be called a 'Women's March,' all our sister's voices, thoughts, viewpoints, and stories need to be heard."
The annual March for Life comes to Washington the Friday after the Women's March. This year holds a special milestone to celebrate: The Guttmacher Institute reported this week that abortion rates have dropped to a record low in recent years.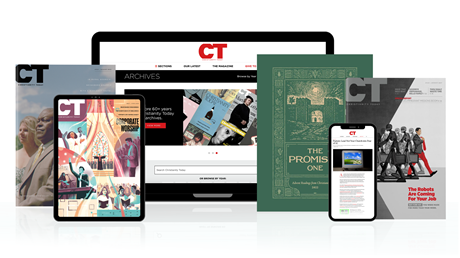 Annual & Monthly subscriptions available.
Print & Digital Issues of CT magazine
Complete access to every article on ChristianityToday.com
Unlimited access to 65+ years of CT's online archives
Member-only special issues
Subscribe
Women's March Sets Out to Exclude 40 Percent of American Women
Women's March Sets Out to Exclude 40 Percent of American Women