true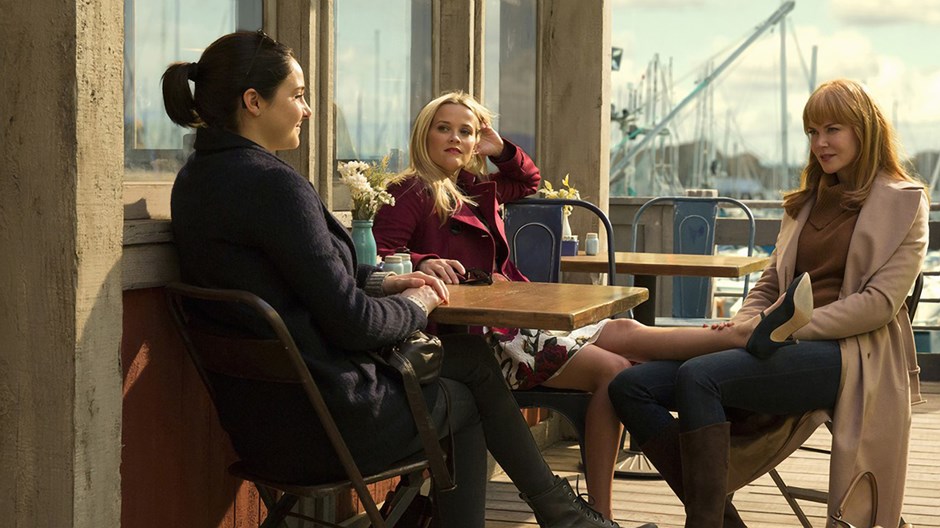 Image: Courtesy HBO
Big Little Lies is a lot of things: an adaptation of one of Oprah's favorite beach novels, a miniseries produced by its stars Reese Witherspoon and Nicole Kidman, an excuse for innumerable shots of the coastline near Big Sur, a murder mystery unfolding in flashback, a satire of the privileged class and helicopter parenting, a melodrama about midlife crises, and a meta-commentary on how Hollywood's female roles are comparatively less complex than the series' characters.
While the plot of this new HBO series is moved forward by intertwined tales of mystery and friendship, its clearest preoccupation is the complexity of women's identities, especially as they approach midlife. In the second episode, Reese Witherspoon's character, Madeline, gazes thoughtfully toward the ocean when her first grader asks why Mommy so frequently stares at the sea. She answers, "The ocean is powerful. Mostly it's vast. It's full of life, mystery. Who knows what lies out there beneath the surface?" "Monsters?" asks Chloe. "Monsters? Maybe," responds Madeline. "Dreams. Sunken treasure. It's the great unknown."
Their exchange works as a metaphor for how this narrative imagines its female characters: lasting but changeable, teeming with life, but maybe hiding beasts in the depths beneath the eye-catching surface.
Set in the town of Monterey, California, the story puts in motion a series of slights and confrontations that resemble a real-life "mommy war." Central characters Madeline (Reese Witherspoon), Celeste (Nicole Kidman), and Renata (Laura Dern) are a veritable pantheon of mom types. Witherspoon is the over-involved "alpha" of the stay-at-home mom set. Kidman puts her almost too-polished cool to good use as the gorgeous mom with the gorgeous life. Dern manages an incredibly brittle yet believable performance as the career woman who juggles school events with corporate board meetings. The fourth notable character is Jane (Shailene Woodley), a young single mom just scraping by who is introduced to us in the first episode when she joins Madeline and Celeste for morning coffee. Leaning back from the table and assessing the scene in front of her—the seaside, the two beautiful moms who've invited her—she comments that it feels too perfect for her to belong in it. (Sometimes the metaphors aren't all that subtle.)
A mystery as central to the series as its murder whodunit is how each of the major characters will navigate challenges to their sense of self. Each appears to the outside world as an archetype of a certain kind of female but is also savvy to how she is being perceived. Some of the most dramatic scenes show us (often private) moments when a woman's actions or dialogue break with the expected cultural script for her archetype. For example, Renata the "C-suite" mom voices deep frustration and self-doubt when she's alone with her husband. Exasperated by how little acceptance she finds among the other moms, she blurts out what she fears everyone in town thinks about her: "What kind of person chooses to work? Certainly not a mother by any acceptable standards." In that instant my least favorite character became a woman that I know, even a woman that I have been on certain days.
As a show premised on human deceit, Big Little Lies questions the stories we tell ourselves and whether we are willing or able to let go of lies (big or little) about our identity. The central characters deal with different roles—wife, lover, friend, professional, mother—sometimes attempting to juggle them all, sometimes setting certain ones aside, and sometimes having very little choice in the matter. The miniseries does the compelling work of looking at each woman as a person whose identity is forged at this busy intersection of possibilities, obligations, and roads not taken.
However they define themselves in this of mix of identities, motherhood is the role that is the most re-orienting for all the show's characters. In the first episode, each of the main characters is introduced while driving her child to first grade orientation, each one both a chauffeur and an authority figure for the little person in their backseat. The message here and elsewhere is apparent: Being a mom requires that all the other elements of their lives, dreams, and reputations flex around it.
Single motherhood defines Jane's life rhythms and priorities. Renata is recognized as a powerful businesswoman, but as a "working mom," her success becomes suspect as something that comes at price to her family. For Celeste, the possibility of children seems to impact the way she handles her troubled marriage and how little she chooses to reveal even to her best friend. And Madeline, the stay-at-home-mom, embraces her maternal role to the exclusion of a career but wonders what will be left of her identity once her children are independent. She confesses this nagging distress to her husband. Other women are "starting to plan their next chapter," she says, but "[the children] are my chapter."
The motherhood-and-identity theme haunts even the opening credits of each episode. First we see a series of children mugging for the camera, then seconds later we witness another parade of faces, this time the mothers, all heavily made up for a fashion show and devoid of expression. The parallelism and contrast are unsettling and suggest an equally unsettling idea: that children become proxies for their mother's identities—for their dreams and achievements, social battles, and relationship squabbles. (If the whole child-as-proxy thing sounds like a stretch, think of how many times you or one of your mom friends has used a child's photo as a Facebook profile picture. Big Little Lies has put its finger on something women are navigating in the age of high stakes parenting and keeping up appearances on social media.)
Although there's a murder mystery in the background, this question of identity and motherhood is the most authentically human material in the show. It gets at how impossibly stretched and exhausted many moms feel, even though they also feel like no one else should know that about them. As Glamour magazine recently observed, while few women find themselves living in the ocean-front privilege of Big Little Lies, "all mothers—even those with the Pinterest-worthy Instagram feeds—work tirelessly to appear like they are thriving, when, in fact, we are all just (barely) surviving."
As a writer, professor, and mom of three, I am often barely ahead of our family's need for groceries. When there is little in the fridge but string cheese, some Sriracha, and that dim little light bulb, I turn to my emergency solution of "cereal buffet" dinners. Ending the day with Cheerios and Corn Chex always delights my children and keeps the dish pile small, but it also feels like clear indicator that I don't really know what I am doing as a mother. Not even aware of this area of self-doubt, a friend of mine—one I'm often tempted to regard as a super-mom—casually remarked one afternoon, "Well, I think it's going to be another night of peanut butter and jelly for dinner at our house." Her transparency was a gift, and one that reminds me how much each of us needs authentic companionship in the trenches.
As Christians, some of us may skip watching Big Little Lies because of its racy sex scenes or its heart-breaking and complicated depiction of domestic violence. Still, I hope we don't miss out on the opportunity to reflect on how our varying motherhood experiences (or lack of motherhood experience) have reoriented our sense of self. It's easy to fall into one of the many scripts for womanhood that defines our identity relative to child-bearing. As Christians we are privileged to know the truth of our primary identity as image-bearers. With that true anchor in mind, we're able to show grace to ourselves and one another.
As author Julia Roller reminds us, "Sometimes we need to hold our identity as mothers lightly, reminding ourselves that we are more, that motherhood is only one way of illuminating our true identity in Christ."
Laura Kenna has a PhD in American Studies and teaches on cultural criticism, film, and writing at Trinity Fellows Academy and blogs about popular culture at remotepossibilitiesblog.com.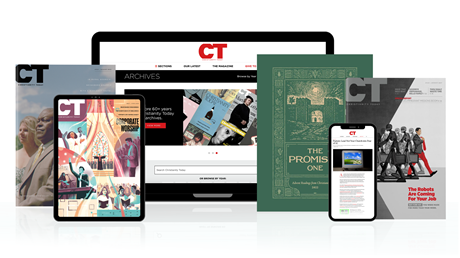 Subscribe to Christianity Today and get access to this article plus 65+ years of archives.
Home delivery of CT magazine
Complete access to articles on ChristianityToday.com
Over 120 years of magazine archives plus full access to all of CT's online archives
Subscribe Now
'Big Little Lies' Tells the Truth
'Big Little Lies' Tells the Truth