Image: Djkeddie / Wikimedia
Editor's note (April 3): 15 Kuyper Conference participants and presenters, including influential philosophers Nicholas Wolterstorff and Alvin Plantinga, released a statement expressing their disagreement with Princeton's decision to rescind Keller's award, saying the reversal "gives evidence of a policy unworthy of its history of free academic debate and diversity that characterizes this great institution."
----
A large number of the 300 who attended the 1998 Stone Lectures at Princeton Theological Seminary were "Kuyperians."
On the 100th anniversary of Abraham Kuyper's delivering those lectures in 1898, the seminary chose to commemorate the occasion by inviting Yale University's Nicholas Wolterstorff— a longtime advocate for Kuyper's thought—to offer that year's Stone lecture.
It was also the occasion for presenting the inaugural Kuyper Prize—funded by the philanthropists Rimmer and Ruth DeVries, themselves avid Kuyperians—to the Dutch historian and Kuyper biographer George Puchinger.
The Kuyper Prize is much in the news right now. Having designated Tim Keller as this year's recipient, Princeton leaders announced last week that they are reversing that decision. Princeton's president acted in response to protests from students regarding Keller's lack of support for both the ordination of women and LGBTQ causes.
Modeling a marvelous graciousness, Keller has agreed to keep the commitment to give the lead-off lecture for this year's Kuyper conference, even though there will be no award ceremony.
When those yearly Kuyper events began at Princeton in 1998, many of us in the Kuyperian movement—both in the United States and abroad—were thrilled that this great seminary was not only honoring our hero but also acknowledging that the stream of Calvinist thought he represented continues to be a vital presence within the broad Reformed community.
The news about reversing the decision to honor Keller has spread rapidly within our movement in the past few days, typically with expressions of consternation and feelings of betrayal.
While many of us disagree with Keller's stance on the ordination of women, we admire him greatly. His ministry—Redeemer Presbyterian Church in New York City—has done so much to model the practical application of Kuyper's theology of culture to Christian engagement in business, the arts, politics, journalism, and other areas of cultural leadership in seeking obedience to the lordship of Jesus Christ over, to use Kuyper's oft-cited imagery, "every square inch" of creation.
Indeed, there is an irony to be noted in this regard. Just last week I talked to a journalist who told me how much Keller had encouraged her in her calling to be a strong voice in her profession. "I see him as one of my key mentors," she said. She is not alone in this. I have heard similar testimonies from women in the banking world, academic life, and other areas of public service.
An important question for many of us now is: What happens next? What will this mean for the future? Several of us who have received the Kuyper Prize in the past have gone on record as holding to the traditional view of sexuality and marriage. Is there a new litmus test? Would folks like us automatically be ruled out as being too much like Keller on at least one key issue?
The Kuyperian movement, once confined primarily to pockets of Dutch Calvinism in North America and the Netherlands, is growing internationally. Serious work on Kuyper's thought is happening, for example, in mainland China. And the strengthened sense of a global movement has been stimulated in part in recent years by the Kuyper events at Princeton Seminary. For this we can be grateful.
Even if this—the 20th year for the annual gathering—is the last, it has been a good run. My own Kuyperian PhD students have actively participated in the conferences, presenting papers and forming networks of peers. The folks at the seminary have been gracious hosts. And even if the welcome mat is now being pulled away from the likes of us, we can thank the Lord—and Princeton—for something that was very good while it lasted.
Richard J. Mouw, president emeritus of Fuller Seminary, received Princeton Theological Seminary's annual Kuyper Prize in 2007.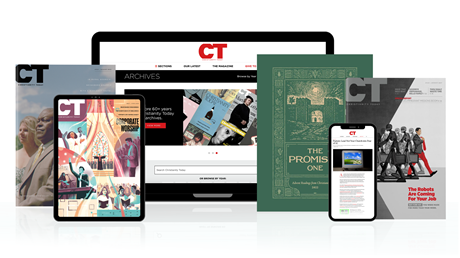 Annual & Monthly subscriptions available.
Print & Digital Issues of CT magazine
Complete access to every article on ChristianityToday.com
Unlimited access to 65+ years of CT's online archives
Member-only special issues
Subscribe
From Kuyper to Keller: Why Princeton's Prize Controversy Is So Ironic
From Kuyper to Keller: Why Princeton's Prize ...