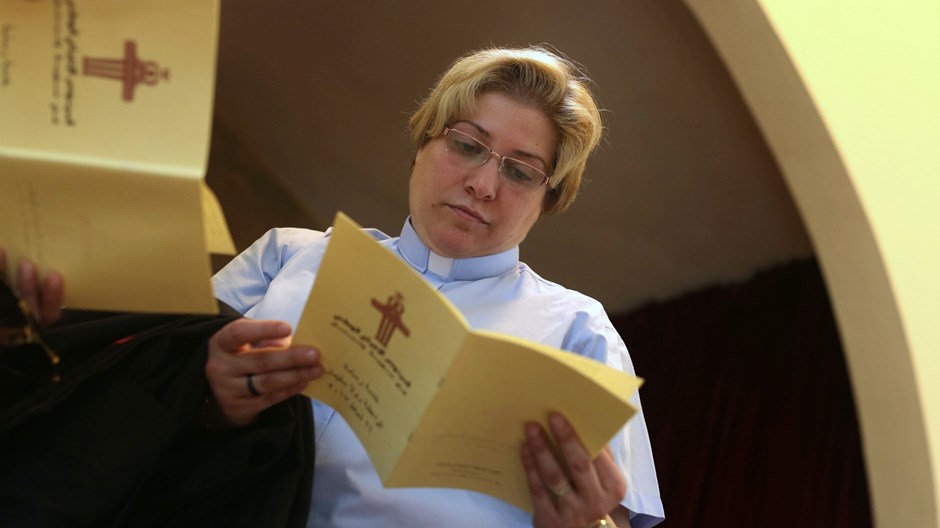 Image: Patrick Baz / Getty
The turnover among Christians in the Middle East, in addition to years of stirring among reformist Arab evangelicals, has made way for female pastors to rise into leadership positions vacated by clergy who have fled amid the mass migration in the region.
Not since three women were ordained by the Church of God in 1920 had an Arab woman been granted the ecclesial backing to administer the sacraments in Syria or Lebanon. Nearly a century later, a pair of female pastors—Rola Sleiman and Najla Kassab—were ordained in February and March of this year.
They represent a unique way forward for the meager evangelical population in the Levant, which has followed traditional gender roles.
"It wasn't in my dreams," said Sleiman, who studied at Beirut's Near East School of Theology (NEST). "I just wanted to serve God. I never planned that I'm going to be ordained."
After serving for years as a Christian educator and Sunday school teacher in Tripoli, Sleiman was tapped to fill the pulpit at Tripoli Evangelical Church during a transition period after her church's pastor emigrated.
When a year passed and the role hadn't been filled, leaders selected Sleiman to represent the church on an administrative council. Even as pastor, she could not administer the sacraments or perform marriages without being ordained.
Last year, her church put forth the revolutionary motion to ordain Sleiman, now in her early 40s. The decision was carried out by secret vote and passed 23 to 1. "I thought it was going to pass," said Sleiman, "but not with that vote. It was shocking for me."
The following month, Kassab secured her ordination at Rabieh Evangelical Church in suburban Beirut.
The tiny band of Protestant churches in the region celebrated their ordination with fanfare.
"For long we shared with you stories of pain and struggles in our ministry in Syria and Lebanon," read the declaration. "Today we are happy to share with you a story of joy where we announce that the National Evangelical Synod of Syria and Lebanon (NESSL) officially, and for the first time, has set dates for ordaining two women to serve the Word and Sacraments."
'Better Late Than Never'
Like in the West, evangelicals in the Middle East have debated the issue of women's ordination for years, and women have been enrolled in seminaries in the region for more than three decades.
The most promising move on behalf of female clergy came in 2010, when the Fellowship of the Middle Eastern Evangelical Churches—an ecumenical group that spans about 15 countries and denominations—unanimously agreed that women had the right to ask for ordination. But local churches didn't nominate female candidates, and the decision reached a dead end. In Egyptian evangelical circles, the matter of women's ordination was tabled in 2014 and has not been reopened.
A variety of factors contributed to the recent move to finally ordain women in the region. Sleiman's unique position in her home church, a beloved daughter of the congregation serving for years in a pastoral role, made her ordination a more natural transition than appointing an outsider. She was the obvious choice—and a woman.
Plus, a new committee for religious affairs for NESSL, the evangelical synod, began last summer. Headed by a progressive young pastor, it has made bolder recommendations than its predecessors.
"We're 100 years late," said Sleiman, "but it's better late than never."
With the local church losing leaders to emigration and violence amidst the turmoil of the war in Syria, the need for pastors has put willing women in the spotlight.
After decades of waiting, the new standard marks a sudden change for the region. It's too soon to tell exactly how the surrounding Catholic and Orthodox traditions will respond to the sudden change among the evangelical minority.
"We are happy that though we live in a highly patriarchal society … the Protestant Church is able to make this move and give a model to others that is forward-thinking," said Rima Nasrallah, assistant professor at NEST.
Neighboring bishops and patriarchs have mostly encountered female clergy through delegations from the West, accepting their presence as "something the Protestants have."
The head of the Egyptian Presbyterian Church attended Kassab's ordination in Rabieh, Lebanon, and expressed his desire to see the same phenomenon in his own country. The Lutheran Bishop of Jerusalem said the same. Perhaps most strikingly, the Syriac Orthodox Bishop of Mount Lebanon was also present at the ordination in a sign of solidarity.
"It is good to see that the Protestant community, who has broken many stereotypes and taboos in the Middle East in the past, continues to push on for more changes in society," said Nasrallah.
The double ordination of Sleiman and Kassab could actually deter some churches from sponsoring young women's theological studies. With these examples, churches may worry that women are more likely to expect pastoral offices that either don't exist or that congregations aren't ready to grant them.
But the hope is that these pastors would become a model for the women already pursuing ministry and serving faithfully in their congregations.
"Some women who were so far hesitating about studying theology—since the field of ministry was limited to only teaching in schools—this might make them bolder," said Nasrallah. "I hope that these two ordinations will have the effect of awakening women to this possible calling."
A Light for Arab Evangelicals
Female seminarians in Lebanon, like in the West, often feel more comfortable with a call to serve the church than to pastoral ministry in particular.
"Being an ordained minister became more plausible," said one NEST graduate. "Although we still have a long way to walk and a lot of challenges to overcome, this event strengthened my backbone and gave me new, solid ground."
She had always been frustrated by the impossibility of ordination, never receiving a satisfying answer to her questions of "Why not?"
Like other women in her position, this young minister was destined to work in education and teach Sunday school classes, as Sleiman did for years before her regular preaching position took off. Now, the graduate says her goal to serve and preach hasn't changed, but her hopes have.
Arab women administering the Eucharist signal promising change for a church splintered by war and weary from marginalization. Despite detractors who for theological and cultural reasons oppose the ordination of women for most local congregations, the recent ordinations are something to celebrate.
"Of course, there will be many who criticize," said Sleiman, "but I think every woman in every church will feel some kind of hope."
Griffin Paul Jackson is a writer in Chicago. He recently returned from a year of humanitarian aid work in the Middle East.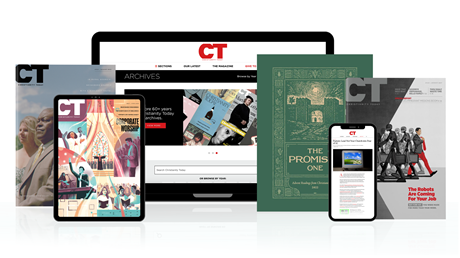 Subscribe to Christianity Today and get access to this article plus 65+ years of archives.
Home delivery of CT magazine
Complete access to articles on ChristianityToday.com
Over 120 years of magazine archives plus full access to all of CT's online archives
Subscribe Now
Female Pastors Bring Hope to War-Torn Middle East Churches
Female Pastors Bring Hope to War-Torn Middle East Churches