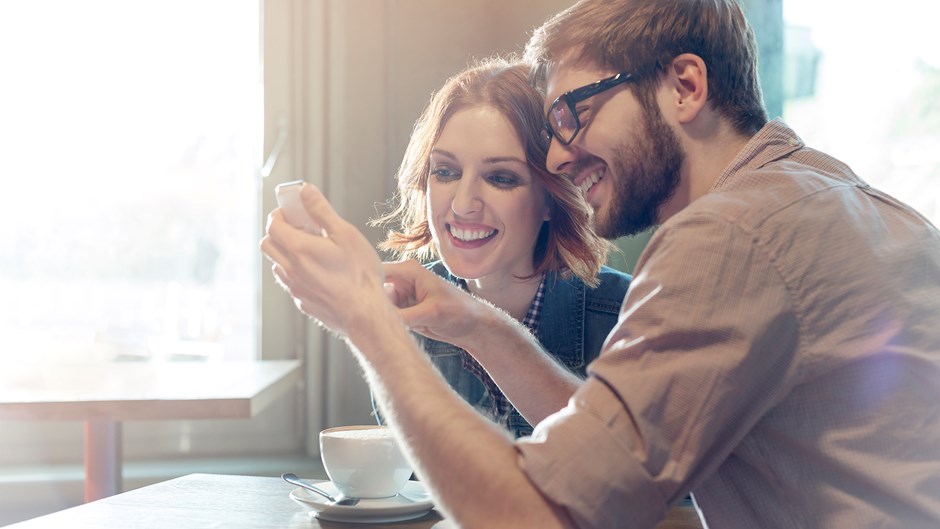 Image: Milton Brown / Getty Images
In the lives of married millennials, having kids changes everything, according to Lasting, a marriage health app that so far has over 125,000 respondents to its marital health survey. Couples without children tend to report being more satisfied with their marriages than couples with children. In response to statements like "My partner is a great listener," only 30 percent of people with kids agreed, while 45 percent of people without kids agreed.
The company's dataset may be the largest marriage survey sample size ever gathered. Most users are between the ages of 20 and 35 or in their first 15 years of marriage (80 percent of users were married after 2010). Regardless of their parenthood status, men and women overall reported significant differences: Nearly 67 percent of women disagreed with the statement "My partner is a good listener" while only 51 percent of men disagreed.
The data gathered, while interesting on its own, contributes to the app's function as a marriage counseling product. When users first log in, Lasting walks them through a 27-question marriage assessment survey. Based on the results, the app identifies a couple's weaknesses and then gives tailored recommendations derived from decades of scientific studies on marital health. There are 18 topics total (called "series") broken up into smaller sessions. Each session begins with a podcast or TED Talk–style lesson, and each series is filled with exercises to practice what you learned.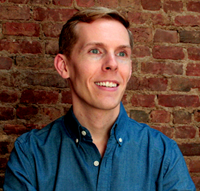 Image: Courtesy of Rebecca Dziedzic
While its users aren't all Christians, the app creator Steven Dziedzic wants his content to pass the "gospel test" as well as the "science test." Dziedzic—whose first start-up was acquired by The Knot and The Bump—was previously in charge of The Knot's mobile app. "I was working 60 hours a week helping 80 percent of the engaged couples in the country plan their wedding," he said, "which means I was spending 60 hours a week helping couples find DJs and bands and florals, but I wasn't doing a single thing for their relationship."
"I was just starting to see that, in the consumer ethos of millennials and Gen Xers, marriage isn't what it used to be. I heard phrases like, 'Is she going to make me happy?' I felt like we needed to come out with an app that communicated what marriage stands for and what it truly is."
For Dziedzic, the most surprising data result is how marriage changes once you have kids. (That concern is now personal to him since he's expecting his first child this month.) "Parents have a very rocky time," Dziedzic said.
Eventually, the app will offer a module created specifically to encourage parents. Dziedzic also hopes the app reaches people who might not go to counselors, either because of the discomfort of sharing with a therapist or the cost of paying for one. "I'm not negating the power of therapy," he said. "We just want to make a simpler way for you to achieve the same ends."
CT spoke recently with Dziedzic to learn more about his personal faith, his vision for Lasting, and the lessons he's learned from the app.
How does your faith inform your work?
There's an organization called Praxis Labs that specifically chooses faith-based founders. It's their belief that companies influence our culture—especially ideas inside of corporate structures that spread quickly and capture consumers. Think of Instagram, Snapchat.
I went through their program this year, and it helped me think really critically about how faith plays into Lasting. Praxis likes to say that a lot of companies start with "What's a good business idea?" and then they'll create a company, and once the company has success, they'll say, "Oh, how can we be more ethical? How can we involve our faith more in this thing that already exists?" Praxis starts with the question "How does God want the world to be? How did God design this world? How can we join with God in a company?"
In my case, I'm asking: "What does God want marriage to be? How can a product actually drive people more into that reality?" That's how I try to embed my faith into this company every single day.
Is the app reaching Christians?
I've wanted to share the app with the church because I'm a Christian, but I designed it for all marriages. Surprisingly, it's been harder to get Christians to download it than non-Christians. I don't know that for a fact, because we don't capture religious data in the app, but here's an anecdote: We have a few Instagram ads. There were a flurry of comments to the effect of, "Oh, my gosh, a marriage app. Why don't you just read the Bible?" or "Oh, my gosh, why don't you just get Tim Keller's book, The Meaning of Marriage?" No one can hear me, but I'm screaming, "If you only knew what I want to help you with. This is just as much for you as it is for anyone else. I love Tim Keller's book, and I love the Bible, but I also love this app."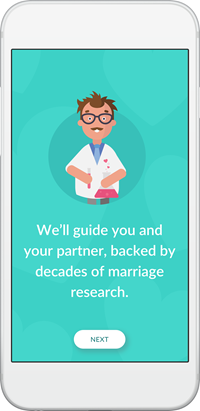 For a lot of Christians, they can't separate—and they shouldn't separate—their faith from their marriage. It's a foundational component, and I love that. But for some Christians, if something isn't approved by the church—I'm using church in the capital C sense—they're really hesitant to engage it. In some ways, all we really need to reach the Christian audience is for respected Christian authorities to give it a nod of approval.
Psychology can sometimes be a tension point in the church.
Yes, for some, there's a hesitancy to accept science. I just want to tell people that if God created the world, then of course, science will point back to him. It's just the way intelligent design works. That's the beauty of this app. Literally, so much of this scientific research points directly to Scripture. It's amazing the way it works.
What have you learned from this data?
There are competing things in our lives, whether it's media or advertising you see—mobile phones distract couples way more than we actually thought—work or kids, so it's easy to stop prioritizing your marriage. And it's easy to stop prioritizing appreciation of your partner. Even though it's easy to say thank you, it's just so easy not to. It gets even easier to not do all these things when you become a parent. There's a precipitous drop in marital satisfaction in the first three years of a new child, so we need to be really careful and sensitive and helpful toward parents.
What kind of personal feedback are you getting from users?
What we've been hearing in general is that some of these concepts from the app have really transformed all of their interactions. Let me explain our two most important ones: emotional call and the inner world principle.
The foundation of your marriage is your emotional connection. But what's your emotional connection made of? It's constructed by thousands of tiny moments where you partner turns to you and tries to connect with you. Those moments can look wildly different. It could be "Hey, honey, how was your day?" or "Hey, look at this new shirt I got." But it can also be much more complex, like a deep sigh after a really long day at work. You don't say your partner's name, but you're subtly reaching out. We call these moments "emotional calls."
What the research found is if you respond positively to 86 percent of your partner's emotional calls, you'll have a healthy, thriving marriage. But if this next year you only respond to 33 percent of your partner's emotional calls, that means you're on the path to divorce. That's because your emotional connection has been weakened so much at the foundational level that all these other things start to collapse.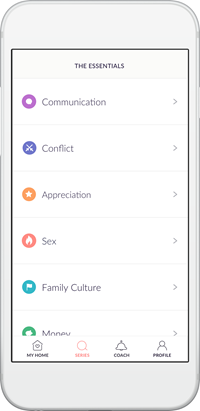 The second one is the inner world principle, which has to do with how your brain has been constructed over decades of time. One of the chief goals of marriage, even in conflict, is to get inside your partner's head to really inhabit their inner world, because that unlocks empathy in your relationship and helps you navigate a conflict far, far better.
Couples [using the app] will say all the time, "These two principles transformed our interactions." One husband said, "I've started considering my wife's emotional calls a lot." The woman in this relationship said that now when they argue about money, she's thinking about his inner world and asking, "Why does he value this purchase so much?"
Why does this app matter in today's world of declining marriage rates?
This is about the most important thing I could be doing right now.
Marriage is just as important to your overall health as diet and exercise. People in healthier marriages tend to live 10 years longer. Couples actually coregulate each other's blood pressure. There are all sorts of studies that show how important relationships are in our own health.
If you're in a healthy, dependent relationship, you start taking more risks as an individual, you start exploring yourself in healthy ways, and that in turn pours back into your relationship with your partner. There's this wonderful cyclical effect from having a healthy dependence. If you're in a bad relationship, you also become more independent but in unhealthy ways. You start becoming closed off and not really sharing yourself, and that, in turn, becomes cyclically even worse. So a healthier marriage actually leads you to become a healthier self.
Then there's the entire future generation. A lot of researchers have shown that the number one factor in a child's emotional, cognitive, and social development is the emotional connection of parents. The parents' marriage is the most significant factor in the molding of a young child's mind. I really believe that the more we create healthy marriages, the healthier a future generation becomes, and the healthier we all are.
Survey responses from Lasting:
My partner is a great listener.
48.9% men agree
51.0% men do not agree
33.2% women agree
66.8% women do not agree
30.0% with kids agree
70.0% with kids don't agree
45.7% without kids agree
54.3% without kids don't agree
My partner is very good at responding to my emotional signals (e.g., I need attention).
37.4% men agree
62.6% men do not agree
28.3% women agree
71.7% women do not agree
23.8% with kids agree
76.2% with kids don't agree
40.3% without kids agree
59.7% without kids don't agree
My partner makes me feel very appreciated.
48.0% men agree
52.0% men do not agree
38.9% women agree
61.1% women do not agree
32.9% with kids agree
67.1% with kids don't agree
52.2% without kids agree
47.8% without kids don't agree with this
My partner is very good at expressing gratitude for something I have done for him/her or for us.
54.0% men agree
46.0% men do not agree
45.0% women agree
55.0% women do not agree
40.0% with kids agree
60.0% with kids don't agree
56.0% without kids agree
44.0% without kids don't agree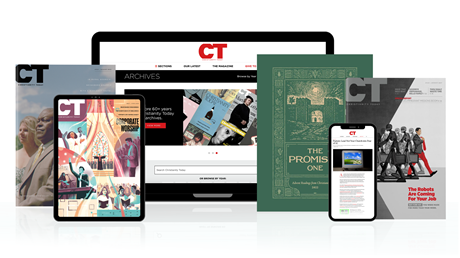 Annual & Monthly subscriptions available.
Print & Digital Issues of CT magazine
Complete access to every article on ChristianityToday.com
Unlimited access to 65+ years of CT's online archives
Member-only special issues
Subscribe
Q&A: Marriage App Founder Says Couples Benefit from Digital Therapy
Q&A: Marriage App Founder Says Couples Benefit ...