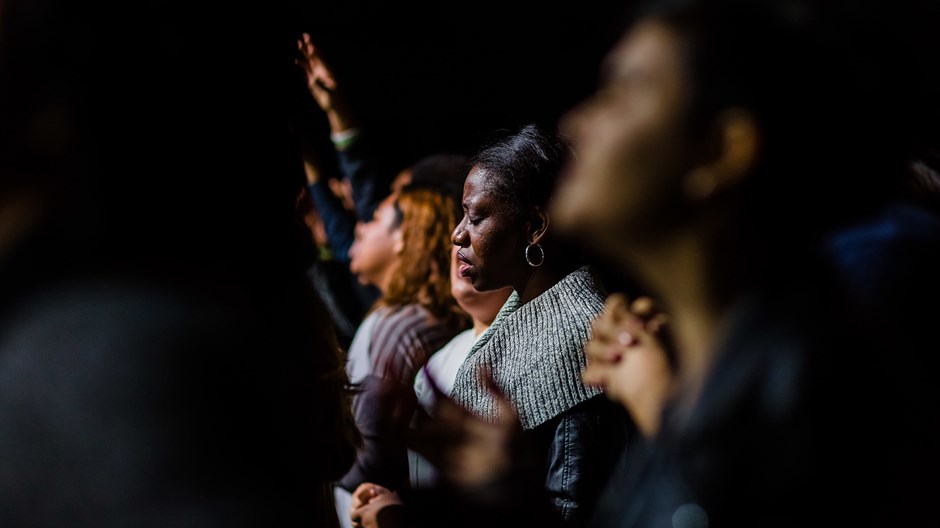 I grew up during America's Moral Majority years, when putting an ichthus on your business card would up your professional game. In an era when group belonging seemed a foregone conclusion, evangelism emphasized a personal relationship with Christ, and corporate worship grew to reflect (ironically) a focus on individual experience.
But our post-Christian cultural shift heightens the church's need to reclaim its historic emphasis on us. We need the weekly reminder of corporate belief more than ever. Spending six days a week in the wilderness of cultural unbelief, the church needs that seventh-day gathering to do what it was designed for: reminding us that we are not alone.
We need a movement from me back to us, re-envisioning corporate worship as a place that purposefully points us away from individual experience toward tangible reminders of our shared faith.
Shared Sight
Moving from me to us requires re-evaluating worship environments. The use of stage lighting leaves the congregation in darkness for much of the service, and anonymity invades our worship.
Leaving the lights undimmed for most, if not all, of that time allows us to actually see each other joining together in worship, to recognize that we approach the altar as a family versus as individuals.
Shared Hearing
Moving from me to us also impacts how we use sound systems and choose music. When the sound is too loud, individuals in the congregation feel isolated and anonymous. Lower levels let us hear one another, encouraging participation.
When music is difficult to sing, congregants fall silent. If syncopation, odd key choice, or complicated melodies present barriers to the average singer, they likely need to be traded for songs that accommodate everyone's abilities.
Shared Touch
Moving from me to us prompts us to consider how congregants physically interact. The historic greeting of a holy kiss may not translate, but greeting with eye contact and a grasped hand gives us a tangible reminder that we are physically gathered together to worship with other living, breathing believers, as does laying hands on one another during prayer .
Shared Taste
Moving from me to us leads to greater focus on the shared table of the Lord's Supper. The term communion means "share in common," a fitting description for this meal that has been the common practice of believers throughout the ages. It was never intended for a quiet moment in a crowded room.
Taking the Lord's Supper weekly in a well-lit, low-volume gathering allows us to share in common the taste of the wine and bread that connect us to one another and to the church universal.
Shared Smell
Moving from me to us invites us to revisit the historical importance of the sense of smell in the gathering. The Old Testament tabernacle and temple were intentionally scented with a unique blend of incense that was unlawful to use elsewhere.
Though most modern churches don't use incense, using live greens at Advent, lilies at Easter, or even scented candles helps develop a shared "fragrance memory" among the family of God, much like a remembered scent from a childhood home.
Shared Words
Moving from me to us requires evaluating the words we choose for corporate prayer and song lyrics, as well as the words we speak in unison.
Corporate prayers and song lyrics that favor the use of we, us, and our over I, me, and my represent the collective cry of the family of God. Opportunities for shared professions draw us together, such as reading Scripture aloud together.
Corporate gatherings that cater to personal experience diminish the life-giving message of salvation as the entrance into the family of God. An emphasis on the individual will not serve us as we move into a post-Christian culture. Only a shared faith will carry and comfort us.
May the weekly gathering be a place where we elevate us over me, guarding and welcoming the much-needed reminder that we are not alone.
Jen Wilkin is a wife, mom, and Bible teacher. She is the author of None Like Him.
Beginning of Wisdom
The Beginning of Wisdom offers a Bible teacher's perspective on spiritual growth and scriptural study in our churches, small groups, and families.
Jen Wilkin is a wife, mom, and Bible teacher. She is the author of
Women of the Word
and
None Like Him
. She tweets
@jenniferwilkin
.
Previous Beginning of Wisdom Columns: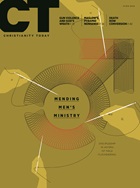 This article is from the June 2018 issue.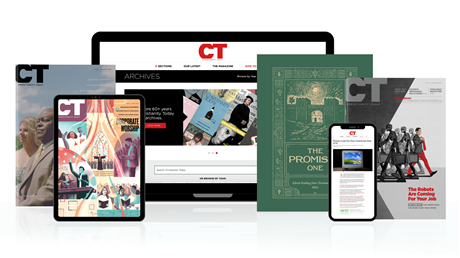 Find hope and historical insight. For a limited time, explore 60+ years of CT archives for free!
Daily devotions from Timothy Dalrymple during this pandemic.
Hundreds of theology and spiritual formation classics from Philip Yancey, Elisabeth Elliot, John Stott, and more.
Thought journalism that inspires you to think more deeply about your faith.
Sunday Church Services Are Not About You
Sunday Church Services Are Not About You