Image: Huang Minh Dinh / EyeEm / Getty
When I was a child, my younger sister and I each had a teenage doll. They weren't real Barbies, but that didn't matter to us because we pretended they were international spies. Our mom's old shoeboxes became their private airplanes, and our dolls would fly around the world, communicating with each other on their walkie-talkies cleverly disguised as the matching bracelets they wore.
That make-believe I played as a child was an expression of creativity—an early attempt to explore my own voice and way of being in the world. No, I didn't grow up to be a spy and I don't have a private airplane, but my sister and I are still close, I still have a lively imagination, and I still find creative ways to communicate.
Creativity is an inherent part of being made in the image of God. It's so fundamental to being human that we can't help but create—in the way we play as children, in music, painting, drama, and other creative arts, and also in our daily work as adults. Work is not "a necessary drudgery," says theologian and novelist Dorothy Sayers, but "a creative activity."
In "Why Work?" Sayers argues that work poorly done is an insult to God. "No crooked table legs or ill-fitting drawers ever, I dare swear, came out of the carpenter's shop at Nazareth," she writes. "Nor, if they did, could anyone believe that they were made by the same hand that made Heaven and earth." Whether our job is making tables or waiting on them, working at a computer or driving a bus, changing diapers or changing legislation, any work that is worth doing is worth doing well and meant to reflect some of God's creativity.
As God completed each stage of Creation and called it good, so our human creativity is also a good gift from God. With creativity we play, we work, we make useful and tangible objects, we perform real services, we speak into the world around us. As we express ourselves in myriad ways, we can create a mood, create friendships, create family, create community, create a life.
Yet creative expression is not only about expressing ourselves—not only about voicing our own thoughts and feelings, not only about exercising our own imaginations and vision. In a larger sense, creativity is about reflecting the image of God to the world. Whenever we create a beautiful photograph or a beautiful garden, we reflect some of God's beauty. A beautiful friendship reflects some of God's goodness and care. A beautiful meal expresses some of God's provision in nourishing our physical bodies and nurturing relationships around our table. Just as the created world points us to the Creator, so human creativity also points us to God—inviting wonder, inspiring us to look beyond ourselves, giving us a glimpse of glory.
This holds true even when our creative expressions are born of pain and heartache. The struggle to give voice to our experience, to make sense of our lives, and to live in and for God's kingdom is inherently creative. Even when our creative expressions are not beautiful in the narrow sense of being pleasing to the eye, ear, or heart, they may move us in unexpected and beautiful ways.
A photograph might be more interesting than beautiful—provoking thought, jolting us out of complacency, spurring us to action. A conversation with a friend might be painful and move us to tears yet create a new level of transparency and understanding. The work of advocacy might challenge the status quo and take us out of our comfort zone, but that too takes creativity and expresses another kind of beauty.
As we reflect God to the world—in beauty and in struggle—we have enormous opportunity for creativity and to do good. In fact, Scripture speaks of spiritual gifts given "for the common good" (1 Cor. 12:7), and I believe that includes the gift of creativity. Ephesians 4:7 underscores that "to each one of us grace has been given," and 1 Peter 4:10 adds to the thought: "Each of you should use whatever gift you have received to serve others, as faithful stewards of God's grace in its various forms."
Each of us has been given the gift of creativity—yes, even those of us who don't think of ourselves as creative. "If you're alive, you're creative," asserts creativity author Patti Digh. But instead of using our creativity solely for ourselves, we have a greater purpose: to reflect God's image and to serve others. Or in the words of Jesus' Great Commandments, to "love the Lord your God with all your heart and with all your soul and with all your mind" and to "love your neighbor as yourself" (Matt. 22:37–39).
In some ways, I'm still that little girl playing with my not-quite-Barbie, dreaming of making a difference in the world and finding my unique voice. I hope we're all a little like her—still dreaming, still speaking up, still being heard. Not only for ourselves, even though self-expression is a beautiful thing. Not only for creativity's own sake, even though creativity is a precious gift from God. But by our creative efforts may we bear God's image into our world in beautiful, painful, and challenging ways, serving God and serving others for the common good.
April Yamasaki is a pastor and the author of Spark: Igniting Your God-Given Creativity, Four Gifts, Sacred Pauses, and other books on Christian living. Learn more at AprilYamasaki.com.

This article is part of our CT special issue focused on women raising their voices. In "Heard," we explore how women are speaking up, not only in response to scandals or injustice, but also more broadly for the sake of the gospel and the values of Christ's kingdom. Click here to download a free digital version of our special issue.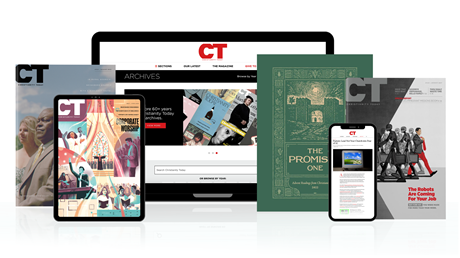 Subscribe to Christianity Today and get access to this article plus 65+ years of archives.
Home delivery of CT magazine
Complete access to articles on ChristianityToday.com
Over 120 years of magazine archives plus full access to all of CT's online archives
Subscribe Now
Find Your Creative Voice
Find Your Creative Voice