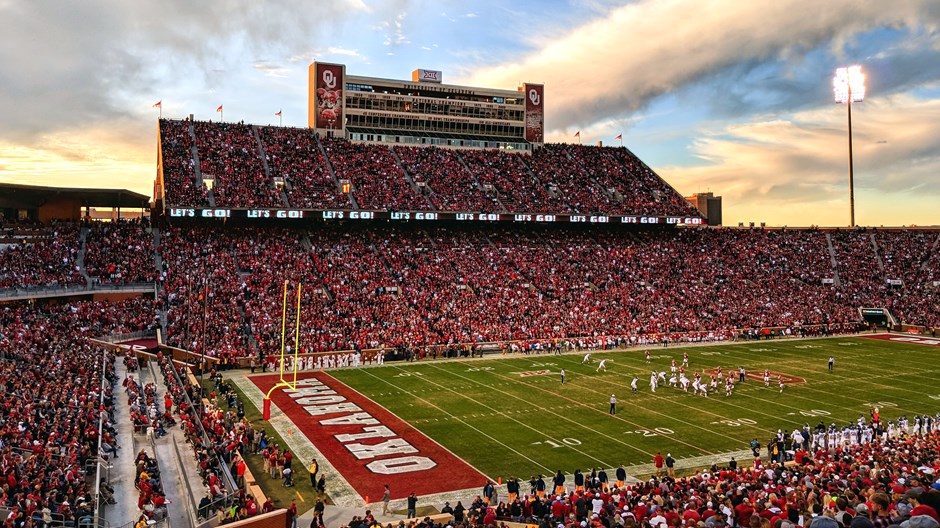 Image: Alex Batchelor / Unsplash
When the tenth-ranked Oklahoma Sooner football team matches up against the twelfth-ranked Baylor Bears on Saturday, the college football world will be watching. The game is slated for a primetime evening slot on ABC, and the premiere college football preview show—ESPN's College GameDay—will be in Waco, Texas, to heighten the drama.
Despite the attention this year, the matchup is hardly historic. The two teams have only played 28 times—most of them since 1996, when they joined the Big 12 conference—with Oklahoma winning 25. When one thinks of college football's great historical rivalries, Baylor and Oklahoma are not even on the radar.
Beyond the field, however, Baylor and Oklahoma do have an important shared legacy. While religion has been a part of football since its very origins, one could make a strong case that no two college football programs have played a more important role in bringing evangelical Christianity into modern-day college football than Oklahoma and Baylor. Their ministry partnership has far greater historical significance than their football rivalry.
For both schools, their pioneering roles came through the Fellowship of Christian Athletes (FCA), founded in 1954. Plenty of Christians had participated in athletics before FCA, but there was no organized infrastructure within the sports world providing them with spiritual support. FCA changed all that, sparking a movement of Christian athletes and coaches that by the 1980s had carved out a stable place within the American sports landscape.
College football was not the FCA's only sport, but it was by far the most important. Its ability to bring local communities together and its association with masculinity and building character fit well with FCA's ethos. It was fitting, then, that Oklahoma, king of college football in the 1950s, was where it all began.
The FCA idea came from the mind of Don McClanen, a junior college basketball coach in the state. McClanen's goal, developed in the midst of the Cold War, was simple: mobilize celebrity athletes to sell Christianity to America's youth before they could be reached by communism. McClanen's vision was national, but he had inspiration in his own backyard from Bud Wilkinson, standout coach of the Oklahoma Sooner football team. An Episcopalian, Wilkinson was open to McClanen's religious vision; he and assistant coach Port Robertson helped organize FCA's official public launch, which took place in Oklahoma in January 1955.
The launch included visits to numerous high schools and colleges in the state. But it was the visit to the University of Oklahoma that proved most fruitful. "All the players and coaches were in the meeting room and soon the back door opened and in walks Coach Wilkinson and three other men," former Sooner player Chuck Bowman recalled. The three other men were current or former professional athletes: Doak Walker (football), Otto Graham (football), and Pepper Martin (baseball).
The celebrity athletes sensed the potential usefulness of Oklahoma Sooner football. "I would hit that school again and again," Graham wrote to McClanen, "because they are the big name out there and a big name in the country." Sooner football players like Bowman, Clendon Thomas, and Bill Krisher all became FCA spokesmen, helping to legitimize the organization within big-time college football.
Oklahoma football players also helped expand FCA's goals, adding to its public-facing evangelistic mission a more private discipleship and relationship-building program. This occurred after the very first FCA meeting. Ten Sooner athletes stuck around, asking FCA leaders if they could continue meeting together on a regular basis. Put simply, they instigated the pilot program for the small-group structure that FCA would later call "huddle" groups—one of FCA's most important and lasting innovations.
While Oklahoma served as ground zero for FCA's move into college football, we could call Baylor an early adopter.
As a Baptist university in the South, Baylor already had a culture of support for the blending of football and Christianity. When FCA visited campus in 1956 it received a warm welcome from Baylor athletes, including All-American lineman Bill Glass. And Baylor athletes contributed to FCA's growth, too, building on the Oklahoma model by launching a weekly FCA meeting. By 1961 Baylor's FCA group was so successful that college football programs across the country were writing to Baylor asking for guidance on how to start their own FCA groups.
Baylor's FCA connections extended into coaching as well. John Bridgers, hired as Baylor's football coach in 1959, served on FCA's Board of Directors in the 1960s. His involvement coincided with the leadership of James Jeffrey, a former Baylor football player who led the FCA's expansion in that decade. Bridgers helped FCA embed itself more fully within the coaching fraternity, participating in FCA's breakfasts at the annual meeting of the American Football Coaches Association (AFCA) and building relationships with his peers. Bridgers especially wanted to reach coaches who, he explained to fellow FCA Board members, "felt that they were not good enough to be a part of FCA." He wanted to help them see that FCA members were not perfect; they were simply "sinners who were seeking Christian answers in their personal lives and trying to make it a part of their athletic work."
So successful was this effort that by 1971 the New York Times was taking notice. It published an article describing southern college football coaches as the "circuit riders" of the FCA faith. Frank Deford, too, writing for Sports Illustrated in 1976, quoted a coach who claimed that FCA membership was akin to a college football coach union card.
There was one final way in which Oklahoma and Baylor served as catalysts for the modern-day fusion of faith and football: their move towards racial integration. Although FCA was integrated from its 1954 origins, it was a white-dominated organization and it did not insist that its southern coaches prioritize desegregation. Some FCA-affiliated coaches dragged their feet on the matter, but Wilkinson and Bridgers were relatively quick compared to their peers.
At Oklahoma, Prentice Gautt, who joined the team in 1956, broke the color barrier, while at Baylor, John Westbrook, who joined in 1965, did the same. Both Gautt and Westbrook also played pioneering roles in FCA. Throughout the 1960s Gautt was one of FCA's few black spokespersons, praising the organization for its "ecumenical and interracial" character, while John Westbrook was hired in 1969 as FCA's first black full-time staff member.
Westbrook and Gautt serve as a Rorschach test of sorts for how one views the movement that FCA wrought. Supporters might see them as examples of FCA's positive influence in college football, its promotion of a racially inclusive community. Others, like journalist Tom Krattenmaker, might see the inclusion of black athletes as an example of the way predominantly white evangelical organizations tokenize and use people of color to maintain their own authority.
There are tensions in other matters, too. Baylor, for example, has featured a number of Christian leaders in football since the 1970s, including revered ex-coach Grant Teaff, standout linebacker Mike Singletary, and, most recently, current coach Matt Rhule. But it must also claim Art Briles, whose public proclamations of faith contrasted with a Baylor career that ended in disgrace.
And Briles is hardly alone among Christian coaches. While many athletes and coaches have found meaning, direction, and comfort from the spiritual support system developed by FCA, it's fair to ask if Christian convictions are too often subsumed by the pressure to win and the allure of money and fame in major college football, or if the evangelicalism planted by FCA has significantly shaped college football culture in positive ways.
But whether you love or hate to see it, there is no doubt that Christianity is conspicuously present within the ranks of college football in ways that it was not prior to the 1950s. When you see a college football coach talking publicly about Jesus, or a quarterback thanking God for helping him persevere through adversity, or players gathering together in prayer, you can think of Baylor and Oklahoma, partners in ministry who helped to pave the way.
Paul Emory Putz has a Ph.D in history and is Assistant Director of the Sports Ministry Program at Baylor's Truett Seminary. You can follow him on Twitter @p_emory.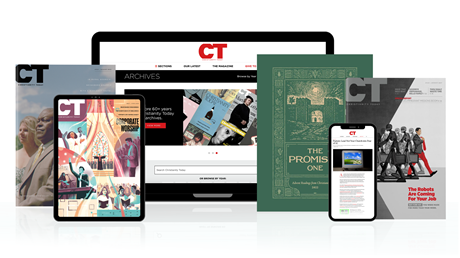 Annual & Monthly subscriptions available.
Print & Digital Issues of CT magazine
Complete access to every article on ChristianityToday.com
Unlimited access to 65+ years of CT's online archives
Member-only special issues
Subscribe
Oklahoma v. Baylor: Rivals on the Field, Partners in Ministry
Oklahoma v. Baylor: Rivals on the Field, Partners in Ministry