Holy America, Phoebe!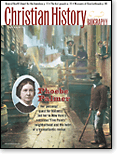 This slideshow is only available for subscribers.
Please log in or subscribe to view the slideshow.
America's modernized, industrialized, consumerized, urbanized, television-ized culture doesn't make it easy for its Christian believers to live consistently holy lives. Today we will meet a group of people who took up this challenge and changed America forever. We will also meet the extraordinary woman who led their movement: a middle-class matron named Phoebe Palmer.
Even in the whirl of a swiftly secularizing society, Americans have always found ways to pursue holiness. Some—like the Old Order Amish and Benedictine monastics—have entered enclaves and taken countercultural vows of abstinence and obedience. They would tell you that America is simply too easy to love, and that the only way to lead a God-honoring life surrounded by the secularized masses is to "come out from among them" (2 Corinthians 6:17).
Others, though equally wary of the many traps American culture sets for the feet of the disciple, have dedicated themselves to seeking holiness in the thick of things. Executives, laborers, soldiers, teachers, stay-at-home parents … these intrepid souls have tried to live holy lives right out in the marketplace—pursuing John the Disciple's fine art of "being in but not of the world" (John 17:14-16).
Of course, the problem of living holy in an unholy world is not uniquely American—or uniquely modern. Yet, at certain times and places, the Christian battle for personal and public holiness has become more intense.
One such time and place was the mid-1700s on the teeming, industrializing landscape of England. There, amidst a close circle of Oxford friends derisively labeled "the Holy Club" by less spiritually earnest undergraduates, John Wesley ...
You have reached the end of this Article Preview