Even at 500, Calvin Inspires Today's Reformers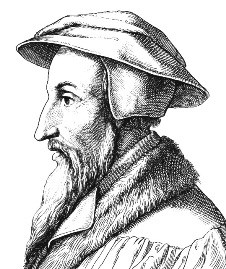 This slideshow is only available for subscribers.
Please log in or subscribe to view the slideshow.
The deluge of tribute articles reminds us that John Calvin's 500th birthday is right around the corner. This week, Christians around the world will observe July 10, 1509, as a turning point in world history. The man who ridiculed relics and requested no tribute in death might shudder at the notoriety. But he would certainly appreciate learning how his voluminous writings have circulated the globe and equipped generations of gospel ministers.
Calvin might also like to know that his life's work still beckons church leaders today to call for reform. Historian and pastor Charles Hambrick-Stowe appealed to his legacy to encourage reform-minded mainline ministers during the UCC General Synod on June 28. A scholar with impressive breadth of expertise, Hambrick-Stowe now shepherds the flock as senior pastor of First Congregational Church in Ridgefield, Connecticut. Speaking for the Faithful and Welcoming luncheon, Hambrick-Stowe reviewed the heart of Calvin's theological vision for ministry and recapped what Congregationalists have lost by neglecting this key component of their heritage.
Calvin taught that salvation comes by faith alone through Jesus Christ, not by anything we do, Hambrick-Stowe explained. He bowed to the authority of Scripture, not to the papal office. And he sought to reform both the civil sphere and church life under a God who exercises sovereignty over all things. Yet the mention of Calvin's name elicits shrugs and shame in the UCC today, Hambrick-Stowe lamented.
"For many decades now in our denomination, Calvin has been seen â€" at best â€" as an embarrassment, the crusty old uncle that you wish would stop coming to family gatherings," he explained. "If Presbyterians still wanted to engage in conversation with ...
You have reached the end of this Article Preview