Peering into the Cloister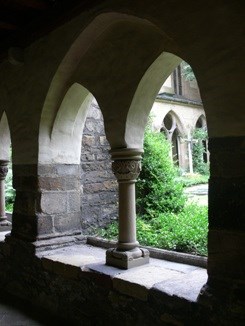 This slideshow is only available for subscribers.
Please log in or subscribe to view the slideshow.
Last week was a good one: we spent it at our friends' Wisconsin cabin, enjoying swimming, boating, fishing, tubing, and even a close encounter with a bald eagle.
What made the week even better was the book I took with me to relax with on the dock as our kids swam. This was Christopher Brooke's The Age of the Cloister: The Story of Monastic Life in the Middle Ages (Mahwah, NJ: Paulist/HiddenSpring, 2003).* A few samples:
The razors for shaving were kept by one of the monks under the chamberlain's jurisdiction, locked in a box in the cloister near the door to the dormitory. At the appointed time he organized a group of monks in two rows in the cloister, one row to shave, the other to be shaven, and the task was performed to the accompaniment of a psalm. (79)

"'As to our baths,'" says a chronicler, "'there is not much that we can say, for we only bath twice a year, before Christmas and before Easter.'" (79)

Once a month or so all the monks had a blood-letting and a holiday, when they could enjoy the less arduous, more relaxed routine of the infirmary, where meat might be eaten and a briefer round of services attended. (80)

In every large community the fishponds were vital, providing some relief from the salt fish that seems to have played a heavy role in the monastic diet. (81)
Brooke, an emeritus Cambridge University professor and leading medieval scholar, gives us a sympathetic portrait of monasticism largely between 1000 and 1300, prefaced by a basic narrative of the history of monasticism from its roots in Egypt through the founding of Cluny around 900, and concluding with an epilogue moving the narrative beyond 1300.
I appreciated not only Brooke's clearly careful scholarship, but also his affinity for his subject. The Age ...
You have reached the end of this Article Preview