Segregated No More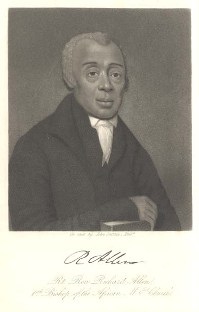 This slideshow is only available for subscribers.
Please log in or subscribe to view the slideshow.
In 1963, Dr. Martin Luther King Jr. told an audience at Western Michigan University, "At 11:00 on Sunday morning when we stand and sing Christ has no east or west, we stand at the most segregated hour in this nation. This is tragic." Sunday morning segregation was especially tragic at two Methodist churches in Philadelphia, separated by one mile and more than 200 years. The two churches, St. George's and Mother Bethel, reunited for the first time October 25, 2009.
The split between the churches dated back to the late eighteenth century and the career of Richard Allen. Born a slave in Philadelphia in 1760, Allen and his family were sold to a Delaware farmer, Stokely Sturgis, who allowed him to attend church. Slaves' exposure to Christianity in the early eighteenth century had largely consisted of exhortations to obey their masters, but by the later years of that century, Methodists and Baptists had begun effective evangelism to slave communities. These two churches' practice of licensing black preachers proved a key to their success but also, unfortunately, brought the racial tensions building in American society in-house.
In 1777, Allen and Sturgis both converted to Methodism. Sturgis became convinced that God would judge slaveholders harshly, so he offered his slaves their freedom for $2,000 each. Allen purchased his and his brother's freedom in 1783, became a Methodist preacher, and spent the next six years itinerating around Delaware, Pennsylvania, New York, Maryland, and South Carolina. Eventually he worked his way back to Philadelphia. He was invited to serve as assistant minister at St. George's Methodist Church and to preach publicly in the city's black neighborhoods. As his popularity grew, so did the black congregation ...
You have reached the end of this Article Preview