Moving on Many Fronts
Pietism's primary concern was to carry out the Reformation in the area of Christian living. Pietists felt that the theologians of the 16th and 17th centuries had used the insights and work of the Reformers to establish a solid doctrinal foundation. Now their task was to promote a continuing reformation in the life of the church, and the transformation of the world through the conversion and constant renewal of individuals.
The Person
Pietist writers took the Fall very seriously and assumed that the world, sin, the devil and the fallen nature of the unregenerate person were ever-present threats to the well-being of both individual and society. By his or her fallen nature the person is surely "lower than a worm," yet because the Creator is good and Christ died to redeem humanity, the person is at the same time "nobler than the angels."
Heinrich Mueller pointed out in his Heavenly Kiss of Love that humanity is indeed God's "noblest creation" because not only is human nature united with God's nature in Christ, but because it is so created that it can bear the marks of Christ. Thus, while humanity is totally depraved (that is, is totally incapable of attaining to salvation on its own), there is that within the person which can be "awakened," although this awakening cannot occur apart from the activity of the Holy Spirit in the hearing of the Word of God.
The Pietists took seriously the significance of human emotion and the psyche. Emotionalism was, in fact, fostered to some degree by the introspective, psychologizing tendencies found in Pietism: Who am I? Am I truly a child of God? Am I living in a state of sin or grace? Am I backsliding? Why am I doing this? What are my feelings telling me? Thus while calling for godly lives, Pietist ...
You have reached the end of this Article Preview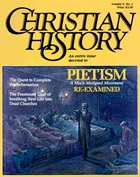 04/01/1986