The Roots and Branches of Pietism
Unlike other major movements in the Christian story, Pietism is difficult to illustrate in a sequential form. Its roots are varied and include the Reformation, Puritanism, Precicianism and Mysticism. Moreover, Pietism was not bound by a single culture, language, or political context as it spread through Europe to North America and beyond. Major Pietist thinkers and writers may be found in the Reformed, Lutheran, Catholic and Radical Reformation groups across a chronological period of a century and a half. Even these distinctions were not discreet altogether, for there were definite relationships between each of the branches of the movement. This chart suggests the chronological and relational dimensions of the major currents and branches of Pietism.
Reformed Pietism
Progenitor
Jean deTaffin (1529–1602)
Theme
"To Renew the Reformed Churches"
Major Characteristics
Stress on preaching
Emphasize pastoral work
Youth catechism Daily Christian walk
Societal reform
Major Writers
Gottfried C. Udemans (1580–1649)
William Brakel (1635–1711)
Jean Labadie (1610–1674)
Joachim Neander William A. Saldems (1627–1694)
American Outgrowths
Michael Schlatter (1718–1790)
Samuel Guldin (1660–1745 )
Philip W. Otterbein (1726–1813)
Theodorus Frelinghuysen (1692–1747)
Lutheran Pietism
Progenitor
Johann Arndt (1555–1621)
Theme
"To Complete the Lutheran Reformation"
Major Characteristics
Emphasize biblical theology
Importance of the individual before God
Creation of an ethical dimension
Optimistic view of history
Major Writers
John Tarnow (1586–1629)
Auguste H. Francke (1663–1727)
Joachim Lutkemann (1608–1655)
Philip Jacob Spener (1635–1705)
Christian Scriver (1629–1693)
American OutgrowthsHenry M. Muhlenberg (1711–1787)Daniel Pastorius (1651–1720)Johann E. Schmidt (1746- 1812)J.H.C. ...
You have reached the end of this Article Preview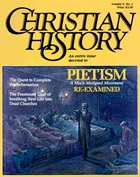 04/01/1986