Augustine's Enchiridion: A Handbook for Earthy Christian Living
Augustine grappled with many of the same ethical issues that concern us today. In The Enchiridion, basically his version of a "handbook of Christian living," he tells how we can maintain a balanced outlook on the issues that affect our lives.
Can a mature saint distill the essentials of earthy Christian living into a simple handbook? Augustine certainly tried. At age 66, in the middle of writing The City of God, he wrote a manual on the Christian life called The Enchiridion on Faith, Hope, and Love. Of Augustine's 93 major written works, this little enchiridion (Greek for "handbook") displays his most integrated picture of down-to-earth life before God.
The impetus behind this handbook was a man named Laurentius. He had implored Augustine to write a short work on the proper worship of God, the meaning and fulfillment of the chief purpose of our lives, and the proper foundation of Christian faith. He had explicitly asked for a "handbook": one to be carried in the hand, not left gathering dust on the shelf!
Just a year earlier, Augustine had restrained Laurentius's brother, a Roman tribune, from being overzealous in fighting the Donatist heresy. In view of the various prevailing heresies and accompanying confusion, Laurentius wanted a brief positive description of Christian living that he could carry with him on his Christian walk.
Though small in size, The Enchiridion certainly deserves its position as a classic in Christian writing. Its basic theme stems from the cardinal Christian virtues of faith, hope and love. In 122 brief chapters, Augustine thoughtfully examines the needs of daily Christian living in the light of biblical truth and the Apostles' Creed. The threads that bind this manual together are the central themes ...
You have reached the end of this Article Preview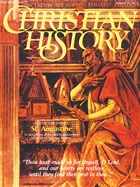 07/01/1987