Tapping the Riches
The theology of John Wesley was not created in a vacuum. His experience, understanding and practice of the Christian faith were influenced by many expressions of its historic development. His theological heritage was shaped by the views of his parents, formal education, extensive reading and study, and constant reflection. By these means he became familiar with a wide variety of personalities, movements and schools of thought whose theological positions informed his life and beliefs.
Wesley was not reluctant to appropriate any portion of Christian tradition which he considered reputable and suitable to undergird Christian commitment. If it passed his critical scrutiny, he was ready to adopt it for his personal use and for the guidance of the Methodist societies. Without disparaging his creativity one must acknowledge that he was a skillful borrower and synthesizer of ideas from many sources.
An outstanding example of Wesley's ability to use some of the breadth of Christian tradition and to incorporate its riches was the publication of A Christian Library. Between 1749 and 1755 Wesley carefully assembled and published this fifty-volume collection of devotional nourishment for the Methodist people and their preachers. It contained what Wesley judged to be the best tracts of "practical divinity." Included were selections from the early church fathers, Pietism, mysticism, the Puritans and Church of England authors. This ambitious project illustrates Wesley's willingness to draw instruction and inspiration from different eras of Christian history.
A comprehensive and definitive account of the influences on Wesley's life and theology has yet to be written. We can mention, however, a few of the principal sources which provided a context ...
You have reached the end of this Article Preview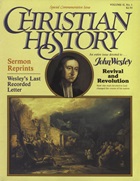 01/01/1983