The Making of a Revivalist

No other personality in 19th century American Christianity seems to represent so clearly or so dramatically the spirit of raw frontier democracy as Charles Grandison Finney. He appears to us in books and memoirs as the pre-eminent apostle of hell-fire revivalism, fearlessly unscrupulous about his methods of getting conversions, a sort of Andrew Jackson in the pulpit, preaching a gospel written on buckskin.
"They used to complain that I let down the dignity of the pulpit," Finney snorted contemptuously in his Memoirs, and compared with the staid dignity of a New England parson, that is precisely and deliberately what he did.
Manners were not the only way in which Finney looked like a bizarre departure form the hide-bound world of Yankee divines in wigs and shoebuckles. Finney liked to admire himself as a self-made theological man, and remarked that at the beginning of his career as a preacher he "had read nothing on the subject except my Bible." And like most American religious innovators, he produced and served up ideas that sent a shiver down the spine of many a frock-coated seminary professor.
Although ordained by the Presbyterians, he ignored the high Calvinism of the Westminster Confession of Faith and declared that every "sinner, under the influence of the Spirit of God, is just as free as a jury under the arguments of an advocate." He dismissed original sin as a doctrine unworthy of God. He threw overboard the conventional understanding of Christ's atonement (in which the life and death of Jesus are imputed to the elect) in favor of a governmental theory of the atonement, which merely held that Jesus' death made it allowable for God to forgive sinners if they made themselves righteous by faith. Later in his career, when ...
You have reached the end of this Article Preview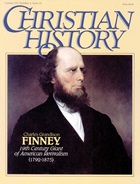 10/01/1988