A 12th Century Man for All Seasons
Bernard of Clairvaux is worthy of the title "a man for all seasons." His life was dogged by controversy and he fought for some issues that few today would wish to defend. Yet despite this he has in every generation had his admirers. As Jean Leclercq put it, "today, as in his own time, he enchants more readers than he exasperates."
In the 16th century he was a widely quoted figure, and both Catholics and Protestants were keen to claim his support. John Calvin saw him as the major witness to the truth in the Medieval Church between Gregory the Great (died 604) and the 16th century. Calvin was not alone in his admiration of Bernard. In the early years of the Reformation dozens of anthologies of writings of early Church fathers and medieval masters were published, by Catholics and Protestants alike. In these works the two most popular medieval authors, who appear in almost all of them, are Gregory the Great and Bernard of Clairvaux. The great monk of the 12th century, the theologian of love, the "honey-tongued doctor," has been admired by all manner of Christians now for almost 800 years.

Bernard was born in 1090 at the chateau of Fontaines, on the outskirts of Dijon in Burgundy (today, France). The chateau survives today and part of it has been converted into a chapel commemorating Bernard. His family belonged to the lesser nobility and Bernard would have received the upbringing proper to a young nobleman, training him for a life in the world. But this was not to be.
In 1112* [* Some recent scholarship has redated Bernards entry to Citeaux to the year 1113.] he entered the recently founded Abbey of Citeaux, the first abbey of the new Cistercian order. This was not one of the well-established and prestigious monasteries, but ...
You have reached the end of this Article Preview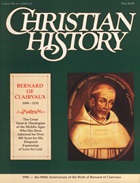 10/01/1989