Sources of Booth's Reforming Ideas
William Booth would accept good ideas from whatever source and, in fact, enjoyed reaching outside his Wesleyan tradition at times. Consequently, In Darkest England absorbed reform ideas from nineteenth-century populists and socialists. Perhaps to gain broad public support Booth chose to converge his ideas with those of popular secular reformers.
Booth acknowledged the influence of American reformers Edward Bellamy and Henry George, but he particularly noted the ideas of three British reformers, none of whom shared his Wesleyan-evangelical religious persuasion: Count Rumford, E. T. Craig, and the Earl of Meath. Here is what Booth gained from each.
Count Rumford had abolished beggary in Bavaria in the late eighteenth century, and his ideas had again become popular in the 1880s. As an American loyal to the Crown, he had served in the British Army "with considerable distinction in the Revolutionary War," according to Booth. After the war, he settled in England and then moved to Bavaria to reform its army. While there he set up Houses of Industry in which, beginning on New Year's Eve 1790, he compelled beggars to work. He discovered that when he treated them with justice and kindness, offered clean and orderly surroundings, and provided inexpensive provisions, they responded with hard work. Best of all for Booth and cost-conscious Victorians, Rumford's program was self-sufficient. A military approach to unemployment, vice, and poverty impressed Booth, who agreed with Rumford that the poor need direction from a strong hand.
Like the Count, Booth would organize workers "not as a bewildered bewildering mob, but as a firm regimented mass, with real captains over them." Booth's city colony workshops reflected Rumford's Munich workhouses, ...
You have reached the end of this Article Preview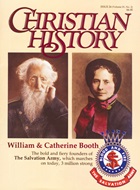 04/01/1990