The Down-Grade Controversy
In March 1887, Spurgeon published in his monthly magazine, The Sword and the Trowel, an article titled "The Down Grade." The article, published anonymously but written by Spurgeon's friend Robert Shindler, declared that some ministers were "denying the proper deity of the Son of God, renouncing faith in his atoning death.… " They were, Shindler said, on a slippery slope, or "Down Grade," away from essential evangelical doctrines.
In the following month's Sword and Trowel, Spurgeon wrote, "We are glad that the article upon 'The Down Grade' has excited notice.… Our warfare is with men who are giving up the atoning sacrifice, denying the inspiration of Holy Scripture, and casting slurs upon justification by faith." That summer Spurgeon wrote further on Shindler's theme. Controversy developed, Spurgeon became the focal point of the charges, and the Baptist Union, which was bitterly divided over the question, ultimately voted to censure him.
Explaining the tangled affair is Dr. Mark Hopkins, lecturer in church history at Theological College of Northern Nigeria.
During the height of the Down-Grade Controversy, in 1887–88, The Sword and the Trowel, Spurgeon's monthly magazine, contained something about the dispute in every issue.
The Down-Grade Controversy of 1887–88 was the most dramatic and the most disastrous episode in Spurgeon's career. It was also the severest crisis ever faced by the Baptist Union, the body to which Spurgeon belonged.
In the flurry of charges, none of the principal players cared to expose key information that lay hidden from public view. However, some important missing pieces of the jigsaw have turned up recently. It is now possible to sketch the story more accurately.
Why Did Spurgeon Start It?
Spurgeon launched ...
You have reached the end of this Article Preview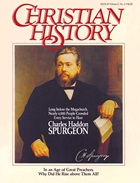 01/01/1991