The Puzzling Faith of Abraham Lincoln
The end of the Civil War in the spring of 1865 began a national discussion that has not stopped 125 years later. What did the war mean? What was its significance to the nation? More momentously, what was its significance to God?
Making No Bones About It
Such questions engaged many of those who lived through the bloody conflict. Among those who thought they knew what it meant were many clergymen, some of whom made no bones about saying so.
In the North, Henry Ward Beecher (1813–1887) was the scion of the country's most prominent evangelical family. As pastor of Brooklyn's Plymouth Congregational Church, he enjoyed the most influential pulpit in the land. When he spoke at ceremonies marking the recapture of Fort Sumter, Beecher made clear what he thought the conflict meant in the eye of God:
"I charge the whole guilt of this war upon the ambitious, educated, plotting leaders of the South.… A day will come when God will reveal judgment and arraign these mighty miscreants.… And then these guiltiest and most remorseless traitors … shall be whirled aloft and plunged downward forever and ever in an endless retribution."
In the South, Robert Lewis Dabney (1820–1898) was almost as prominent as Beecher in the North. A Presbyterian defender of Scripture and of traditional confessions, he was even more orthodox than Beecher. During the war Dabney served on the staff of General Stonewall Jackson; afterward he presided over seminaries in South Carolina and Texas.
Yet from wherever Dabney viewed the conflict, his opinion was the same. The war, he thought, was "caused deliberately" by evil abolitionists who persecuted the South "with calculated malice." When fellow Southerners asked him to soften his views on denominational colleagues in the ...
You have reached the end of this Article Preview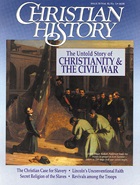 01/01/1992