Pushing to the Point of Exhaustion
Arnold Dallimore, well-known biographer of George Whitefield, had agreed to contribute to this issue of Christian History, but regrettably, a recent turn in his health prevented that. In place of that article we offer a chapter, condensed, from his monumental biography, George Whitefield: The Life and Times of the Great Evangelist of the 18th-Century Revival. In this abridged excerpt, Dallimore shows us a single year in Whitefield's life—1750.
—The Editors
Seventeen-fifty opened with Whitefield in London. There his chief duty was the pastoral care of the Tabernacle [his congregation]. This called for preaching at 6 o'clock each morning and again at 6:00 each evening (every day except Saturday), three or four times each Sunday, and several other times throughout the week. During these months Whitefield also preached twice a week at Lady Huntingdon's—a work he found very taxing. He also sometimes conducted funerals and performed weddings, often counseled inquirers, and took the oversight of the several Tabernacle enterprises.
Together with these tasks Whitefield maintained a large correspondence. There were letters relating to Orphan House affairs and letters in relation to his itinerant ministry—arrangements as to place and time of his preaching. And above all there were letters to spiritual inquirers and to persons whom he knew to be in need of exhortation even if they did not write and ask for it, and this correspondence was conducted with people in various parts of Britain and in virtually all the colonies of America.
Whitefield's letter writing was squeezed in at all possible moments between his other labors. Yet it was never finished, and there were always letters he wanted to write but for which there was no time.
Whitefield ...
You have reached the end of this Article Preview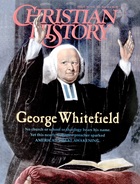 04/01/1993