Major Crusades to the East: Christian History Timeline
1071
Seljuk Turks defeat Byzantine armies at Manzikert

1093-1109
Anselm serves as archbishop of Canterbury

1095-99
The First Crusade

1100
Baldwin I becomes King of Jerusalem

1113
Crusader military order, the Hospitallers of St. John, recognized

1115
Bernard founds Cistercian monastery of Clairvaux

1118
Order of Knights Templar founded to protect pilgrims

1121
Abelard shocks theologians with his "Yes and No," seemingly contradictory statements of theology

1144
Turkish chief Zengi takes Edessa from crusaders


First Crusade
(1095–1099)

Mission
· Defend Eastern Christians from Muslim aggression.
· Make pilgrimages to Jerusalem safer.
· Redirect knights' aggression.
· Recapture the Holy Sepulcher.

Leaders
· Pope Urban II, who called for the crusade in November 1095.
· Peter the Hermit, preacher who recruited a first wave of crusaders, mostly peasants.
· Baldwin of Boulogne, Godfrey of Bouillon, and other French princes who led a second wave.

Outcome
The first wave, an unauthorized "people's crusade," massacred Jews and plundered Eastern Christian territory, before being slaughtered by Muslims near Nicea in 1096.
A second wave, led by princes, moved into Asia Minor that summer and won strategic battles at Nicea and Dorylaeum. After a seven-month siege, Antioch was captured in June 1098.
With great violence the crusaders captured Jerusalem in the summer of 1099. Four crusader states were established in the Holy Land.




1145–48
Second Crusade

1155
Carmelite order founded by 11 crusaders who live as hermits on Mt. Carmel

1167-68
Oxford University founded

1169
Saladin becomes vizier in Egypt

c. 1173
Peter Waldo, founder of Waldensians, begins to preach

1174
The tower of Pisa built

1187
Saladin's forces crush Christian army at Hattin and take Jerusalem
Second Crusade(1145–1148)MissionTo ...
You have reached the end of this Article Preview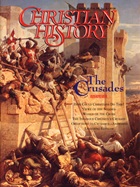 10/01/1993