The Case for Downward Mobility
Francis was the son of a cloth merchant, yet after his conversion he wore a miserable, threadbare patched tunic.
When his father begged Assisi's bishop to stop his crazy son from giving away family property, Francis stood in front of the bishop and stripped himself naked to proclaim that he had no father but God.
In the surging profit economy of northern Italy, Francis told a Franciscan brother who had accepted a coin to shove it into a dunghill with his lips.
Crucial events in Francis's relationship with Jesus Christ turned on poverty. He was enamored with the poverty modeled by Christ and the disciples, and he insisted his followers live in radical poverty. Why?
Poor Jesus
Francis was not a systematic theologian articulating an explicit, developed doctrine of poverty. He preferred acting out the truth to stating it in bald words. Still, his Admonitions (a collection of directives to his friars), and the Earlier and Later Rules (guides for his Order), offer material for an outline of his "gospel of Jesus' poverty."
To Francis the Gospels made it utterly clear that the only way to know God was through Jesus. And the Jesus Francis knew was humble:
"Why do you not recognize the truth and believe in the Son of God? See, daily he humbles himself as when he came from the royal throne into the womb of the Virgin; daily he comes to us in a humble form; daily he comes down from the bosom of the Father upon the altar in the hands of the priest" (Admonitions I:15–18).
Jesus was the one who emptied himself of status and glory and came as one who was humble and poor. Francis saw Jesus as coming in humility whether as a poor preacher or through a piece of bread (in Communion). Status and glory went with wealth; the high and the mighty ...
You have reached the end of this Article Preview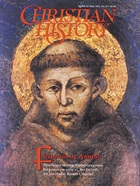 04/01/1994