The Genius of Chrysostom's Preaching
John Chrysostom loved to preach. "Preaching improves me," he once told his congregation. "When I begin to speak, weariness disappears; when I begin to teach, fatigue too disappears. Thus neither sickness itself nor indeed any other obstacle is able to separate me from your love.… For just as you are hungry to listen to me, so too I am hungry to preach to you."
And people loved to hear him preach, and since his death, to read his sermons. He was given the posthumous title of "Chrysostom" or "golden tongue," and it stuck. Pope Pius X in 1908 designated him as the "patron" of Christian preachers. And historian Hans von Campenhausen wrote that his sermons "are probably the only ones from the whole of Greek antiquity which … are still readable today as Christian sermons. They reflect something of the authentic life of the New Testament, just because they are so ethical, so simple, and so clear-headed."
What was it like to hear a Chrysostom sermon? What was it about his method, style, and content that established his reputation as one of the church's greatest preachers?
Standing Room Only
John preached every Sunday and saint's day in addition to conducting several weekday services, which accounts for the 800 sermons still available to us today.
He began his sermons with a prayer that many Christians still pray each Sunday: "Almighty God, unto whom all hearts are open, all desires known, and from whom no secrets are hid; cleanse the thoughts of our hearts by the inspiration of your Holy Spirit, that we may perfectly love you, and worthily magnify your holy name, through Christ, our Lord."
In the fourth century—indeed, until modern times—people did not sit in pews when they worshiped. Instead they stood or walked around, greeting people ...
You have reached the end of this Article Preview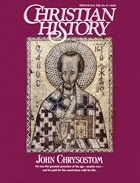 10/01/1994