Life Shall Devour Death
In August 1565, Knox preached a sermon in front of the Queen's husband and implied so many criticisms of the royal couple, he was forbidden to preach for a time. The sermon, however, also contained comforting words for Protestants, whose newly won freedom was threatened by the Catholic monarchs. Some condensed excerpts from John Knox's sermon:
I see honor and glory to succeed this temporal shame; I see permanent joy to come after trouble, order to spring out of this terrible confusion. And finally I see that life shall devour death, so that death shall be destroyed, and so thy servants shall have life. This is the victory of faith, when [in] the midst of death, through the light of God's Word, the afflicted see life.
Easy it is in time of prosperity to say and to think that God is our God, and that we are his people. But when he has given us over into the hands of our enemies, and turned, as it were, his back unto us, then still to reclaim him to be our God, and to have this assurance that we are his people, proceeds wholly from the Holy Spirit of God, as it is the greatest victory of faith, which overcomes the world—for increase whereof we ought continually to pray.
So soon as any great temptation apprehends us, then we begin to doubt if ever we believed God's promises—if God will fulfill them to us if we abide in his favor, if he regards and looks upon the violence and injury that is done unto us—and a multitude of such cogitations, which before lurked quietly in our corrupted hearts, [now] burst violently forth when we are oppressed with any desperate calamity.
Against which this is the remedy: once to apprehend and still to retain God to be our God, and firmly to believe that we are his people whom he loves and will ...
You have reached the end of this Article Preview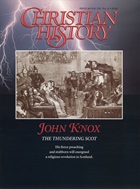 04/01/1995