Hudson Taylor and Missions to China: Christian History Interview - The Miracles after Missions
The word miracle has been so overused (from the "Miracle Mets" to Miracle Whip) that it's hard to know how to describe real miracles—like the ones taking place in China today. To help us understand some of the astounding developments in modern China, Christian History spoke with Kim-Kwong Chan, co-author with Alan Hunter of Protestantism in Contemporary China (Cambridge, 1994).
One prominent missiologist calls this volume "the best book on the current scene." No wonder: Chan, as a free-lance consultant, has traveled extensively in the interior of China and visited dozens of churches. In his current project, he is seeking to find effective mission models where mission activities are officially prohibited.
How is Hudson Taylor remembered in China today?
He is not well remembered. Average people of China have little knowledge of the history of Christian missions.
When the government speaks about the missions movement, it emphasizes its faults. Many Protestant missionaries felt superior to the Chinese; some were even racist. Some exploited the Chinese. Those memories trigger resentment among the Chinese, even among Chinese Christians.
So even believers don't talk about the early missionaries. I travel to different Christian communities in China, and most of them have virtually no linkage, structurally or historically, with mission societies.
How do these Christians explain their faith?
They know foreign missionaries brought the gospel to China, but their evaluation of the missionaries is ambiguous at best. Christian missionaries, they believe, were often the agents of Western imperialism. Then again, in spite of their imperialism, they brought the gospel to China.
Are the charges of imperialism and ethnocentrism justified?
Yes, but we ...
You have reached the end of this Article Preview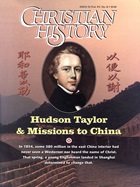 10/01/1996