Amillennialism: Millennium Today
One of the interesting things about Augustine of Hippo, the famous North African who converted in A.D. 386, is how and why he changed his views during his 45-year writing career as a Christian. Perhaps his most influential change is found in City of God, Augustine's greatest work. Its massive length (about a thousand pages in modern translations) took him a dozen years to complete.
There, in book 22, Augustine sets out his mature understanding of the "thousand years" of Revelation 20:3-6. His new position—which is often called amillennial—became the view of most Christians in the West, including the Reformers, for almost a millennium and a half.
Millennium now
Augustine had previously followed the view of most earlier Christians, which was known as chiliasm (from the Greek word for a thousand years). He translated this into Latin as millenarianism.
Now, in City of God, Augustine viewed the thousand years of Revelation 20 not as some special future time but "the period beginning with Christ's first coming," that is, the age of the Christian church. Throughout this age, the saints reign with Christ—not in the fullness of the coming kingdom prepared for those blessed by God the Father, but "in some other and far inferior way."
In fact, if God's people did not now reign with Christ, Augustine said, the church would not now be the kingdom of Christ, the kingdom of heaven (though he does distinguish different meanings of kingdom in Scripture).
So what about the evil that people experience in Christ's kingdom? Augustine said, "The devil is bound throughout the whole period, from the first coming of Christ to the end of the world, which will be Christ's second coming." This does not mean the devil is incapable of enticing Christians ...
You have reached the end of this Article Preview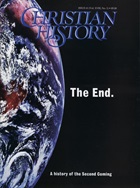 01/01/1999