Antony and the Desert Fathers: The Gallery - Getting Their Act Together

THE MONKS' MONK
John Cassian
(c.365-c.435)
John Cassian was only a teenager when he, with his friend Germanus, left his home in Scythia Minor (present-day Romania) and joined a monastic community in Bethlehem. One day, an Egyptian monk named Pinufius sought lodging in their monastery. Pinufius filled the young men's imaginations with stories of the asceticism of the Egyptian desert, making their Bethlehem community seem tepid in comparison.
Soon Pinufius was discovered by a posse of Egyptian monks who had been hot on his trail. He was their abbot, they said, and they wanted him back. It turned out that Pinufius had a tendency to run away from home in search of anonymity, hoping to preserve his humility.
John Cassian and Germanus were dazzled by such spiritual discipline. "After our first infancy in the faith, we had begun to long for some greater grace of perfection," wrote Cassian in his Conferences, "and we were determined to go to Egypt."
Cassian and Germanus settled in the famous center of Scetis and spent the next dozen or so years in monastic paradise. What Cassian experienced there provided the template for his later monastic teachings.
At the very end of the fourth century, Cassian, Germanus, and many famous Egyptian monks were driven from the region because of the Origenist controversy (see "Ascetic Agitators"). Cassian went first to Constantinople and worked closely for a few years with John Chrysostom, the famous bishop and theologian, until Chrysostom's fall from imperial favor in 404.
After several years, Cassian found his way to Marseilles, then as now, a busy port. His monastic experiences in Palestine, Egypt, and Asia Minor (and perhaps other places) soon made him a recognized ...
You have reached the end of this Article Preview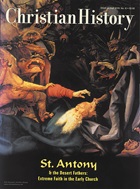 10/01/1999