The Dark Heart Filled With Light
Few writers have captured Augustine's personality as vividly as did Robert Payne in "Augustine: The Sensualist" in The Fathers of the Western Church. Payne (1911-1983) was a distinguished writer whose works included novels and non-fiction, biography and poetry, transaltion, and short stories. Though recent scholarship might nuance some of Payne's interpretations, his overall portrait of Augustine as a man stands. This excerpt, reprinted with permission, takes us from Augustine's youth to his famous conversion.
Augustine belongs to our time. The most wanton of the saints, the man with the clearest mind, the most exalted opinion of himself, the subtlest knowledge of himself, he speaks a language we know only too well. He belongs to the times of crisis, when human minds go wheeling after the final purposes.
There is no leisure in him: he burns himself up with the fury to know all things, to determine all things. Named for two ruthless emperors, Augustine and Aurelius, he could be ruthless as well. And like the great modern psychological novelists, he is armed with a scalpel and is prepared to knife the soul until it reveals its secrets.
Problem child
"Augustine was a Numidian, one of those strange people who inhabited the northern coastal plains of Africa, neither black nor European, but descended like the Basques from some earlier race of settlers. He was tall and long limbed, thin chested, with sloping shoulders. He had a long nose, a high forehead, thick lips, and tremendous eyes, and he did not walk so much as take large, loping strides. His skin was a kind of dark bronze; his eyes were black.
He was born on Sunday, November 13, 354, in the town of Thagaste in what is now Algeria. It was a pleasant town with high white walls, ...
You have reached the end of this Article Preview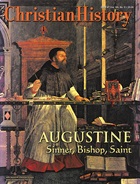 07/01/2000