Teacher, Historian, Critic, Apologist
Readers who meet Lewis first through the Narnian chronicles or Mere Christianity might never suspect that he is recognized in English-speaking countries as one of the greatest literary historians and critics of this century. His first major work of scholarship, The Allegory of Love, was acclaimed by a scholarly reviewer in a national newspaper (as quoted on the dust jacket): "Out of the multitude of volumes on literary criticism there arises once or twice in a generation a truly great work. Such, I believe, is this study by Mr. C.S. Lewis." Nearly fifty years later, this study in medieval tradition is unsurpassed in its wealth of historical information and brilliance of critical insights. One of the ironies of Lewis's career is that most of his admirers throughout the world know him only as a gifted and inspired amateur; few readers outside his own field ever knew him as a professional and an expert.
As a young Oxford don, Lewis followed a familiar path. By his early thirties, he had published four book reviews, two literary letters, and two slim volumes of poetry. He had one essay rejected by T.S. Eliot, editor of Criterion, and another (on Chaucer) published in Essays and Studies. Finally in 1935, the Oxford University Press accepted The Allegory of Love and contracted him to write the volume on the sixteenth century in the Oxford History of English Literature series. He won immediate academic praise and the Gollancz prize for his first book, and by the time English Literature in the Sixteenth Century (Excluding Drama) came out in 1954, he was famous for books of very different kinds. A version of the essay Eliot had rejected, "Psycho-Analysis and Literary Criticism," appeared in Essays and Studies in 1942, the year The ...
You have reached the end of this Article Preview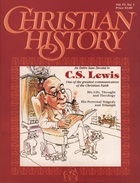 07/01/1985