Devoted Disciplinarian
In February 1740, Jonathan Edwards addressed an ordination sermon to the congregation of Cold Spring, Massachusetts. He reminded their new pastor, Edward Billing, that God had not left it to ministers to determine their mission.
"Ministers," proclaimed the Northampton divine, "are only sent on his errand. They are to preach the preaching that he bids them. He has put into their hands a Book containing a summary of doctrine and bids them go and preach that Word."
Just as the Word they preached came from beyond them, often clashing with merely human assumptions, so—Edwards believed—did the care of souls. Soft comfort must be mixed, at times, with hard challenge.
Such a time was the occasion of Edwards's accession to his Northampton pastorate. On February 11, 1729, the town had lost two prominent spiritual leaders—their minister of the previous 57 years, Solomon Stoddard, and their ruling elder, Ebenezer Strong.
Though sympathetic with the grief of his congregation, Northampton's new spiritual leader saw these deaths as signs of God's displeasure, and he pled for the townsfolk to repent:
"Let us consider what we have done to displease God. … It should now be everyone's work to reflect on himself, to view his past life, to be looking into his own heart and turning his feet into God's testimonies."
From his earliest days as their pastor, Edwards mixed assurances of God's loving care for his covenanted people with stern reminders of what that covenant required of its human beneficiaries.
Pastoral care but not coddling
Impressions of sternness—even coldness and distance—were reinforced by a decision Edwards made at the outset of his 21-year ministry at Northampton. He resolved not to pay the customary pastoral visits to his congregants, ...
You have reached the end of this Article Preview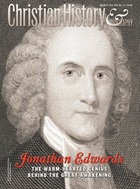 01/01/2003