The Queen Mother?
Uniting John's portrayal of Mary at the wedding at Cana (the beginning of Jesus' earthly ministry) and at the foot of the cross (the end) is what we might call "the theme of the royal mother." John stresses Mary's maternal relationship to Jesus; his use of the term "mother of Jesus" seems to convey a certain reverence, much as it does in Luke's portrayal of the nascent Church gathered in the upper room, waiting for the coming of the Holy Spirit (Acts 1:14).
"Hail, King of the Jews!"
This maternal relationship of Mary to Jesus is linked to John's emphasis on Jesus' kingship, particularly in the context of his passion. Many Bible scholars have noted how John goes to some length to stress that Jesus died as a king. Unlike the other evangelists, John shows how Jesus' claim to kingship was made a major component of his trial before Pilate (18:33, 36-37). The Roman soldiers mock Jesus with the words, "Hail, King of the Jews!" (19:2) At the last it is Jesus' assertion of his kingship that becomes the decisive charge leading directly to his condemnation (19:12-15). Although the other gospels do speak of the sign over Jesus' cross identifying him as "King of the Jews" (Matthew 27:37; Mark 15:26; Luke 23:38), only in John does this designation become a point of controversy between Pilate and Jesus' accusers (John 19:18-22), thereby drawing more explicit attention to it. In John's account Jesus is even buried in a garden (19:41), like His royal ancestors, the covenanted kings of Judah (2 Kings 21:18, 26). Jesus' cross, then, is inseparable from his kingship.
Now it is in connection with Jesus' kingship on the cross that John speaks of "the mother of Jesus" (19:25). In placing this description of Mary in this context of kingship, John ...
You have reached the end of this Article Preview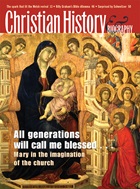 07/01/2004