A Born Preacher
"A preacher he is to the backbone." "To talk or write is with Mr. MacDonald necessarily to preach." These statements, taken from articles published in the 1860s and '70s, are fitting descriptions of a man whose formal ministry was brief but whose interest in preaching and religious teaching continued throughout his life.
MacDonald began to sense a call to ministry in the mid-1840s, shortly after receiving his degree from King's College in Aberdeen. He became minister of Trinity Congregational Church in Arundel, Sussex, in 1850, but the universalist beliefs that had emerged during his studies at King's soon became distasteful to his congregation. Unwilling to be the cause of schism or strife, he agreed to resign after serving only three years.
He did not, however, abandon his calling. He spent some time with an informal congregation in a rented room in Manchester, and was often invited to preach in churches throughout England and Scotland.
MacDonald's doctrine and career path were a bit unconventional, but in many other respects he was very much in the mainstream of Victorian preaching. During the 19th century, there was a lively debate over whether sermons should be read from manuscript or delivered extemporaneously. Like Charles Spurgeon and a host of other preachers, MacDonald came down firmly on the "extemporaneous" side. He used only notes in the pulpit, with stenographers helping to prepare transcripts for publication in religious magazines on both sides of the Atlantic. He also followed the common practice of publishing several books of sermons, which often included works he never had the opportunity to preach.
The importance of being earnest
Both the sermons he preached and those he published met the 19th-century criteria ...
You have reached the end of this Article Preview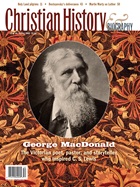 04/01/2005