Republican Presidential candidate Fred Thompson dropped out of the presidential race Tuesday, the New York Times writes.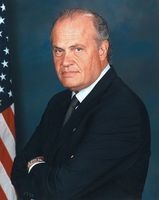 Mr. Thompson, 65, rode in to the campaign powered by the high hopes of conservative Republicans who were disappointed with the field of candidates and hoped that Mr. Thompson - a television actor and former counsel to the Watergate committee - could rally conservatives behind him. But Mr. Thompson instead brought a phlegmatic style to the campaign trail, and his candidacy never took off.
Even though Thompson appealed to some social conservatives and received an endorsement from the National Right to Life, he never drew significant numbers. He entered the race late in the game, told voters he didn't attend church and said he would not talk about religion on the campaign.
He placed third in South Carolina, apparently taking votes away from Mike Huckabee. Unless Huckabee decides to campaign more heavily in Florida, Thompson's exit from the race will likely help Mitt Romney in Florida.