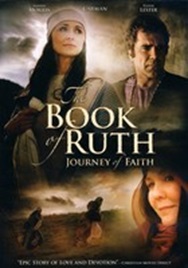 Eight years ago, he played an aging boxer in The Champion, a cheesy-but-decent family-friendly film about a retired boxer who finds his mojo and goes back into the ring to settle a few accounts.
Haven't heard much from Carman since then, but now he's making another comeback – not as a pugilist, but as an Old Testament farmer named Boaz in the new DVD, The Book of Ruth, one of two new releases this week from PureFlix.
PureFlix, which bills the movie as "a biblical Cinderella story from the archives of the royal Jewish bloodline," specializes in producing and distributing Christian and family-friendly films.
Of his latest cinematic venture, Carman says, "To work on a film that takes an in-depth look at conflicting relationship issues has been a great experience. From an acting perspective, it required each of us to take our performances to a new level, and artistically challenge anything we've done before. I believe everyone involved did just that. This film will be around for a long time."
PureFlix's other new release is A Greater Yes, the true story of high school girl Amy Newhouse and her battle with cancer.
PureFlix recently signed a distribution pact with EMI/CMG to expand their reach.