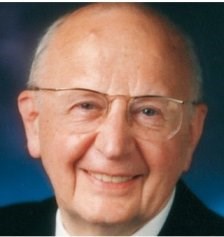 Anyone who passed away between Michael Jackson's June 25 death and his July 7 memorial service was bound to go unsung. But one scholar whose passing should have been more widely noted was Martin Hengel, who specialized in the intersections between rabbinic Judaism and early Christianity. He was Emeritus Professor of New Testament and Early Judaism at the University of Tübingen. After battling cancer, he died in Tübingen, Germany, on July 2 at the age of 82.
Yesterday when I heard the news of Hengel's passing from Whitworth College's Jim Edwards, I e-mailed several evangelical New Testament scholars for their comments.
One common theme that emerged among these friends is that Hengel labored to fight skeptical approaches to reading the NT documents – and did so effectively. Wrote Jim Edwards: "Hengel … reversed the speculative trend of historical pessimism regarding the age and reliability of the NT and early Christian writings." Most specifically, in the words of Dallas Seminary's Darrell Bock, "He fought Bultmannism his entire career."
Wheaton College's Gary Burge chimed in: "Hengel stood against a tide of skepticism that had swept NT studies since mid-century. … Today Hengel's name stands behind many vital convictions we possess about the trustworthiness of the gospels – convictions that the evangelical church assumes every day – but whose defender that church may never know." Denver Seminary's Craig Blomberg said that Hengel wrote "not always quite as conservatively as American evangelicals might like, but light years away from the standard German liberalism."
Several other themes emerged: One was that, according to Edwards, Hengel cared for the faith and the church, something that often gets ignored in the academic discipline of biblical studies. And according to Asbury's Ben Witherington, Hengel "exemplified what John Wesley looked for in a Christian scholar – both erudition and evangelical fervor, both knowledge and vital piety."
Another was the rigor of his scholarship – and the rigor he demanded of his students. North Park University's McKnight called him "a scholar's scholar," and Witherington called him a "polymath," and said Hengel's "knowledge was encyclopedic, his energy was seemingly inexhaustible, and his footnotes were endless." Most importantly, he inspired younger scholars to reach for the same high standard. Blomberg wrote: "I will always remember his challenge to evangelicals to learn the relevant languages for biblical scholarship better than anyone else and to master the relevant primary literature of the ancient world better than anyone else, because, given our convictions about the Bible, we had more reason than anyone else to do so."
Finally, let me mention Hengel's personal touch. Gary Burge was amazed that shortly after he published his doctoral dissertation, he received a letter from Hengel "offering generous compliments and encouragement." Burge continued: "I had known of him only through his scholarship and now suddenly it was clear that behind this great name was a person, a pastor, a fellow-believer whose effort one afternoon brought remarkable encouragement to a fledgling scholar." Bock similarly noted that three separate times when he was on sabbatical in Tübingen, Hengel took the time to mentor him. Witherington also remembers with fondness being the guest of Hengel and his wife in Tübingen.
Jim Edwards wrote that Hengel had once told him that "his primary purpose in scholarship and writing was to unmask the errors of Bultmann's assumptions and conclusions. He did that, and far more, establishing a historical foundation for NT studies that is both historically responsible and certainly congenial to those who have a high view of the Word."
Long-term readers of Christianity Today will know that the early CT also engaged in the debunk-Bultmann project. And even in more recent times, CT was pleased (with Darrell Bock as broker) to give Hengel a platform from which to give strong encouragement to evangelical biblical scholars. Read "Raising the Bar: A daring proposal for the future of evangelical New Testament Scholarship" (CT, Oct. 22, 2001). And then to get a taste of the man himself, watch the video interview on the website of the Centre for Public Christianity.