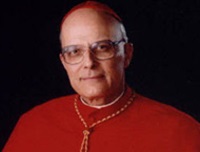 President Obama met today with the nation's top Catholic bishop, Cardinal Francis George of Chicago, after weeks of growing tension over policy changes in the young administration.
George, the president of the U.S. Conference of Catholic Bishops, met with Obama for 30 minutes to discuss "important opportunities for the government and the Catholic Church to continue their long-standing partnership to tackle some of the nation's most pressing challenges," the White House said in a statement.
Neither the White House nor the bishops' conference would elaborate about the meeting beyond their short statements.
It was the first time Obama and George have met in person since the November election, according to the White House, though they have spoken twice on the phone.
Though Obama and George have both held prominent posts in Illinois, where they met a number of times, they never developed a relationship, the cardinal said last November. Obama, who is Protestant, was a state senator in Illinois from 1997 to 2004, when he was elected to the U.S. Senate.
"It's always been a friendly meeting, never substantive," George said at a November meeting of the USCCB in Baltimore.
On Tuesday, the USSCB said George "expressed his gratitude for the meeting and his hopes that it will foster fruitful dialogue for the sake of the common good."
The U.S. Catholic bishops have blasted Obama recently for opening federal funding to international family planning groups and embryonic stem cell research, while planning to roll back conscience protections for health care workers.
At the same time, Catholic Charities USA and other Catholic advocates have praised Obama's proposed federal budget, which includes funding boosts for health care, affordable housing, food stamps and Medicaid.
Also on Tuesday, Obama sent the nomination of Kansas Gov. Kathleen Sebelius to the Senate for confirmation as secretary of the Department of Health and Human Services. A Catholic, Sebelius has angered conservative Catholics – including her bishop, Archbishop Joseph Naumann of Kansas City, Kan. – for supporting abortion rights. Naumann said last May that Sebelius should not receive Communion unless she
publicly recants.