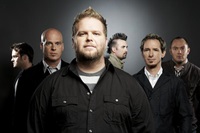 It's a longer headline than I'd write, but the title from this FoxNews.com story says it all: "The Miracle of the $10 Concert Ticket: How Christian Band MercyMe Is Taking on Ticketmaster — and Winning."
The article notes Ticketmaster's run-ins with artists in the past, and goes on to note that MercyMe's $10 ticket prices – with a lineup of multiple bands, to boot – was such a success (including several sellouts) that the band decided to add a second leg to the Rock and Worship Roadshow this year (tour dates here). The current leg includes MercyMe, David Crowder Band, Family Force 5, Francesca Battistelli, Remedy Drive, and Fee.
"The [2009] tour was a risk for the band, who weren't guaranteed a payday if fans didn't come," FoxNews writes. "While there were off nights, overall the tour averaged 10,000 fans a show, with some camping out in front of venues waiting to scurry to the best seats when the doors opened."
The writer asks, "If these bands can skip past Ticketmaster's fees and still put on a show without skimping on production quality, why can't acts with even larger fan bases do the same? Can touring be both a revenue stream and an affordable opportunity for concertgoers to connect with the musicians they love?"
MercyMe is gearing up for the May 4 release of their new album, The Generous Mr. Lovewell.