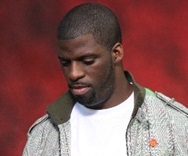 "You know who I love?" rapper Rhymefest asks in a recent interview with Rapzilla, a Christian rap/hip-hop ezine. "What's that guy with the curly hair? What is his name? A white guy. He has a huge church. He's on TV all the time. He talks about health and wellness . . ."
Rapzilla helps him out: "Joel Osteen?"
Rhymefest: "Yo! I LOVE that dude! I watch him as much as I can. He comes across as just a beautiful person and not only because he's a handsome guy with a beautiful family, but because he's so tender with his flock, you know? And he doesn't preach, he teaches."
Interesting comments, considering that just moments before, in the same interview, Rhymefest had said that he thought preachers of the prosperity gospel – and Osteen is often considered one of them – is "fleecing all communities. In fact, what did Jesus say when he went to the church? He said 'How dare you use my Father's house as a market!' To me, that is a direct correlation with what Jesus' thoughts would have been on prosperity preaching. It's an issue. It's fleecing the people. It's idol worship. It's anti-the-Christ in my opinion."
Rhymefest, who says he grew up in a Christian home but now considers himself a Muslim, co-wrote the Kanye West mega-hit "Jesus Walks." Rhymefest makes perhaps his strongest statement on the prosperity gospel with his song and video, "Prosperity." Check out the video below and judge for yourself. (Caution: There are a couple of bad words, and a couple shots that linger on cleavage.)