The Southern Baptist Convention (SBC) adopted a new immigration resolution at its annual meeting held earlier this month in Phoenix. The resolution called on the government to secure the border and then provide a path to citizenship for undocumented immigrants. The SBC said this path to citizenship should not be amnesty but should include "appropriate restitutionary measures." The resolution passed, but not until after a debate that revealed the tensions many evangelicals feel over immigration.
Richard Huff, pastor of Corona de Tucson Baptist Church in Tucson, Arizona, proposed to eliminate the policy section of the resolution. At issue was the path to citizenship, a provision some saw as "amnesty" and a sanctioning of lawbreaking.
Resolution Committee chairman Paul Jimenez said his committee opposed the amendment. He called the original resolution "a realistic and biblical approach to immigration." He said that if the amendment passed the SBC work would be more difficult in areas of the country with more Hispanics.
A slim majority (766-723) voted against the amendment. Instead, additional language was added making clear that "this resolution is not to be construed as support for amnesty for any undocumented immigrant." The resolution then passed by a show of hands.
One of the supporters of the amendment was Wiley Drake, pastor of First Southern Baptist Church of Buena Park in Buena Park, California. He said he is not against all of the resolution, just the "amnesty clause."
"This is amnesty any way you phrase it," Drake said. "Restitution? They don't need restitution. They need to go to work. We win people to Jesus. We get them jobs and we take them back to their country."
Drake is a former vice president of the SBC who ran unsuccessfully for president of the SBC this year (receiving just 4 percent in a two-person race). He has been controversial in recent years for his leadership in the so-called "birther" movement; Drake called Obama an "evil illegal alien." Most infamously, Drake prayed for the death of President Obama if he does not "turn to God." In 2008, he called for prayer to end the lives of leaders of the Americans United for Separation of Church and State. Perhaps as a response, the SBC passed a "civil public discourse" resolution that specifically objected to the "calling for prayers for the deaths of public officials."
Both the amendment and the final SBC resolution reflect a conundrum facing evangelical churches. Along with other evangelical churches, the SBC has supported immigration reform even though many in their pews hold negative views of immigrants.
A February poll by the Pew Research Center for the People and the Press finds that white evangelicals are more likely to see immigrants as a burden than a strength. Pew found that evangelicals are twice as likely to see immigrants today as "a burden on our country because they take our jobs, housing and health care" than they are to say immigrants "strengthen our country because of their hard work and talents." These views were similar—but still more negative—than other religious groups.
Hispanic Catholics and those who are not affiliated with any religion were the most positive toward immigrants, with a majority saying immigrants strengthen the country.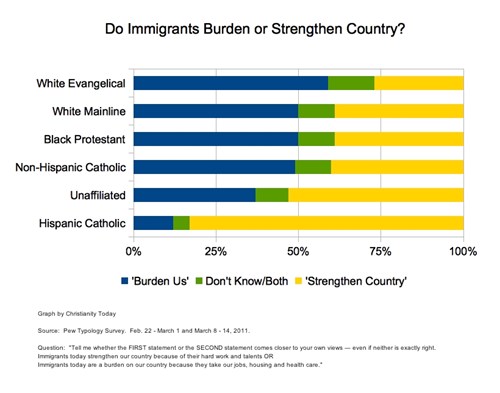 Similarly, Pew found that evangelicals were the only religious tradition to have a majority say that the growing number of immigrants "threatens traditional American customs and values." Around one-third of evangelicals said these immigrants "strengthen American society."
Evangelicals have about the same level of support for both stronger border enforcement and a pathway to citizenship. Approximately two-thirds of evangelicals support a pathway to citizenship that includes, in the language of the SBC resolution, "appropriate restitutionary measures." Pew found that 65 percent of evangelicals support "providing a way for illegal immigrants currently in the country to gain legal citizenship they pass background checks, pay fines, and have jobs." This is the same as other Christian groups. Overall, 72 percent of Americans favor this policy.
At the same time, 78 percent of Americans and 89 percent of evangelicals favor "stronger enforcement of immigration laws and border security." Nine-in-ten white Christians support greater security. Support among African-Americans and hispanic Christians is lower, but still strong (around 75 percent). Those with no religion also support this (69 percent).
The fight over the SBC immigration resolution highlights this immigration conundrum. There are many evangelicals who hold to negative views of immigrants. Nearly all evangelicals support for greater border controls and law enforcement. Yet, this does not mean that immigrants should be rounded up and deported. Most Americans, including most evangelicals, support a path to citizenship that imposes some "appropriate restitutionary measures."
Editor's Note: The Pew Research Center for People and the Press (Pew) provided Christianity Today with a religious breakdown of questions from the poll. However, CT is responsible for all analysis and interpretation of the results. Pew identifies evangelicals as white, non-Hispanic Protestants who described themselves as "born-again or evangelical." About 18 percent of Americans are evangelicals by this definition. The margin of error for each religious group is larger than for the sample as a whole. The results are descriptive; religious differences could be due to partisanship, ideology, income, or other factors.