"When a foreigner lives with you in your land, don't take advantage of him. Treat the foreigner the same as a native. Love him like one of your own. Remember that you were once foreigners in Egypt. I am God, your God" (Lev. 19:33-34, The Message).
"For I was hungry and you gave me something to eat, I was thirsty and you gave me something to drink, I was a stranger and you invited me in" (Matt 25:35, NIV)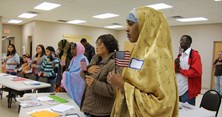 These are familiar passages to many in the Bible Belt, including the residents of Shelbyville, Tennessee. But putting such words into practice is much easier said than done. That's the premise of Welcome to Shelbyville, a documentary airing tonight (10/9c) on PBS's Independent Lens.
It's a fascinating look at how a small town grapples with a rapid influx of foreign refugees, including a growing Latino population and, in more recent years, many Muslims from Somalia. Most of the film was shot in the days prior to the 2008 Presidential election, when America was already facing many changes. But for this small Tennessee town, the changes seemed to come faster than many residents were prepared for.
There are some expected comments from local rednecks and old-timers, mostly borne out of misunderstanding or fear, but there are some encouraging scenes involving local churches who are putting feet to the gospel, trying to roll out the red carpet for their new neighbors. It's a challenge, but it's a challenge they are working hard to meet – whether through large events, door-to-door visits, or ESL classes. There are some sensitive (and some not so sensitive) insights from pastors and religious leaders.
"The movement of people from one place to another, how we acclimate to other cultures, and the resulting fusion of humanity has always fascinated me," says director Kim Snyder. "During my Masters work in foreign relations at Johns Hopkins, I was most interested in social change as it played out in more personal rather than national or historic narratives. Welcome to Shelbyville evolved out of a deep desire over the past decade to tell stories that would not only raise awareness about complex social problems, but that could go one step beyond to highlight people and communities that were tackling these problems with innovative solutions that might ignite social change.
"Welcome to Shelbyville chronicles a year in the life of one town in the rural South grappling with the challenges of rapid demographic change. With focus on Shelbyville as a microcosm of current day trends in immigration that are landing an increasing number of newcomers in rural locales, my intent was to provide a snapshot of this phenomenon through the voices of ordinary citizens, both U.S. and foreign-born, who are often navigating these challenges without much precedent or guidance."
It's worth watching for any community or congregation that is serious about putting feet to the gospel, and reaching out to the strangers among us. Here's the trailer: