Nik Wallenda became the first man to walk right over Niagara Falls Friday night, a 30-minute tightrope televised live on ABC News.
Wallenda told reporters it took "a lot of praying, that's for sure. But, you know, it's all about the concentration, the focus, and the training."
QMI Agency reported earlier on the details of Wallenda's faith.
The King of the Wire puts his faith in the King of Kings.

Just before Nik Wallenda steps onto the wire tonight in an attempt to become the first person to walk a tightrope across the mouth of the Horseshoe Falls, he'll form a circle with a dozen close friends and members of his close-knit Christian family and they'll say a prayer to Jesus Christ.

The cross Wallenda wears around his neck every time he walks on a wire isn't just a fashion statement, it's a message about the religious beliefs the American performer holds close to his heart.

"I grew up in a born-again Christian family. A Bible-believing, God-fearing family. That's the way I was raised and I find comfort and peace in that," he said.
The Toronto Starhas these details from tonight's walk.
His wife and three children held hands and prayed with him minutes before he began. They were there when he reached the end. His engineer uncle perched close at hand; he was a key player in making the stunt happen.

...Moments before strapping on the harness, the daredevil joined hands in riverside prayer with wife Erindera — an eighth-generation wire walker herself; Nik proposed on a wire — and their three children Yanni, 14, Amadeus, 11 and Evita, 9. Prayer comes easily to Nik, a born-again Christian, who thanked God and Jesus out loud — and through his microphone to the world — for much of his 25-minute feat.
The Sarasota Herald-Tribunewrites, "He told ABC his faith in the Lord kept his emotions in check, but that his extensive preparation was an equal component of success."
The New York Times used a biblical analogy to describe it:
He started just after 10 p.m. in mist so thick he was not visible on the Canadian side for more than 10 minutes after he started. The walk, which took about 30 minutes and was televised by ABC, had an Old Testament feel to it.
"I don't know what people will say about me 100 years from now, but it's got to be pretty impressive," he told ABC.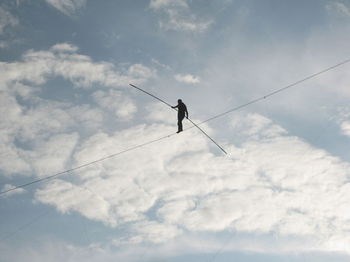 Image via Wikimedia Commons.