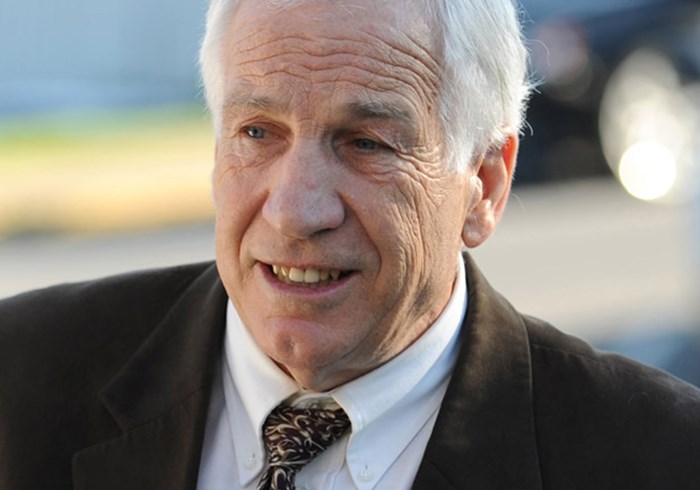 Image: Photo by Nabil K. Mark / Centre Daily Times / MCT
Jerry Sandusky's children's charity will transfer its programs—and $2 million to pay for them—to an organization that places at-risk children in Christian foster care homes.
The Second Mile began to struggle last fall, when Sandusky was accused of molesting 10 boys he met through the charity's programs while assistant coach of Penn State University's football team.
"The board learned that there is overwhelming support for the programs, but that there would not be adequate support, including financial, from donors, volunteers, and referring social service agencies to continue the Second Mile as its own entity," the Pennsylvania organization said in a prepared statement.
After considering 15 different entities, Second Mile chose Arrow Child and Family Ministries to take over its programming, citing Arrow's history of dealing with at-risk children and its presence in Pennsylvania.
Pending court approval, which could take several months, Second Mile would transfer an on-going program endowment and some non-cash assets along with the programming intellectual rights and cash, the statement said.
Arrow began in 1992 as a foster care agency, recruiting families and facilitating placement of foster children in Christian homes. Founded by Mark Tennant, himself a product of the foster system, the Houston-based Arrow has expanded nationwide and encompasses adoption services, family preservation, and in-home services.
Arrow reached out to Second Mile in November, asking if it could offer encouragement or support after the Sandusky story broke.
"I made the connection from a geographical standpoint," said Tennant, who grew up in Pennsylvania. "And so much was being lost in the story. So much was said about Sandusky, but what was not being communicated was what was happening to the kids there. That's why I reached out."
A few months later, Arrow knew Second Mile was looking for an organization to take over its programs, which run after school or in the summers.
The programs are different from Arrow's normal work, chief development and communications officer Faye Eson said.
"The Second Mile intervenes at a different point," she said, by offering mentoring and camps to children who have been identified by school counselors as at-risk for reasons such as socioeconomic status or low self-esteem.
"What makes it wonderful for our organization to take [Second Mile] over is that now we can talk about a full continuum of care for a child," said Eson.
The transfer of assets will likely win legal approval, said Dan Busby, president of the Evangelical Council for Financial Accountability. "The big picture for us is that [Arrow] has no formal relationship with the Second Mile, [which] is a clarifying and important issue," he said. "Because of [Arrow's] welfare expertise and history of successfully operating programs of this type in other settings around the country . . . the court, at the request of the Second Mile, is in the process of approving the transfer of these assets and programs. It would seem [Arrow] is well-suited to effectively carry out these programs under these auspices."
Arrow plans to run Second Mile programs as they are, Tennant said.
"To speak into kids' lives [through] character development, life skills, problem solving, leadership, service—those are delivered under these programs, and we can do that without modifying anything in those programs," he said. "There are underpinnings that, if you are operating from a Christian worldview, find a foundation in biblical moorings. Over time, we will begin to lace in more of a biblical foundation, like with all we do. But it doesn't have to be packaged as such to say this is a Christian program."
Any employees absorbed from Second Mile will be screened and required to sign a statement of faith, he said.
Tennant said he hopes to expand Second Mile programs into other states in the future.
"If we can understand what's going on in their family, then we can keep them out of the foster care system and begin to serve them long before crises come into their lives," he said.