Global poverty has not been the number one issue in the presidential campaign, though a change in leadership would likely impact the amount spent overseas and whether funds would go to organizations that provide abortions.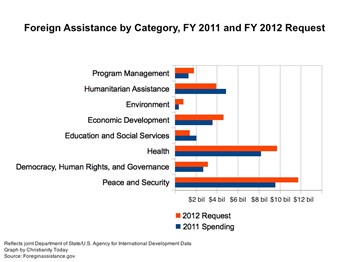 Still, foreign aid has been part of ongoing debate in Congress over the federal budget as more than a billion people live under $1.25 a day, according to the World Bank. Under the Obama administration, spending on aid to developing countries increased by more than $4 billion. His Republican rivals take positions that would likely change how the U.S. distributes foreign aid as leading candidates have taken a range of positions on aid programs. GOP frontrunner Mitt Romney, for instance, is calling for a $100 million reduction in foreign aid. In a debate last October, Romney said that he would support defense-related foreign aid, but he does not support humanitarian foreign aid.
"I happen to think it doesn't make a lot of sense for us to borrow money from the Chinese to go give to another country for humanitarian aid," Romney said.
Romney suggested that the Chinese should be able to help its own people and also help other countries.
Rick Santorum said on his campaign website that the U.S. should expand its humanitarian aid, in part to keep other countries from exerting influence on developing countries.
"We need to keep and expand our commitment to humanitarian aid, especially in Africa. China and Islam are competing for the hearts and minds of much of Africa, and we cannot turn our back from the investment and commitments we have made," Santorum said.
Santorum said that the U.S. view on foreign aid should include a reinstatement of the Mexico City policy that prohibits providing funds to any nongovernmental organization that perform or promotes abortion. The Mexico City policy was originally implemented by President Reagan and rescinded by President Clinton and Obama.
The Mexico City policy was a central point last weekat a hearing on USAID by the House Foreign Affairs Committee where USAID Administrator Rajiv Shah told the committee that the agency was prioritizing the Global Health Initiative and Feed the Future programs.
"While foreign assistance represents less than one percent of our budget, we are committed to improving our efficiency and maximizing the value of every dollar," Shah said.
USAID is requesting a 20 percent increase in spending on promoting democracy and human rights, most of which would be given to assist Israel, Pakistan, and other strategic allies. The administration is also requesting 12 percent more for health programs. Most of the health program dollars would assist sub-Saharan Africa with HIV-AIDS prevention and treatment. USAID is also requesting modest increases in programs to assist economic development, the environment, or humanitarian aid.
In 2011, the U.S. spent $524 million on assistance for family planning, an increase from $455 million in 2009. USAID is requesting a $100 million dollar increase in family planning. While money may not be spent on abortions, the funds may be given to organizations that provide abortions with other funds or that inform women on how to receive an abortion from another organization.
Shah was questioned by Chairman Rep. Ileana Ros-Lehtinen (R-FL), who expressed concerned that increased funding for programs aimed at family planning were coming at the expense of other aid programs.
"I also remain opposed to the increase in money for family planning and reproductive health, especially when all other global health accounts decline," Ros-Lehtinen said. "The administration's reversal of the Mexico City Policy allows U.S. government funding to be allocated to foreign non-governmental organizations that support or promote abortion as a method of family planning. An increase in family planning and reproductive health would only provide further opportunity for expanded funding for these organizations."
As voters view the domestic economy as more important than global aid and a majority of Americans support cuts to foreign aid, questions about foreign aid have taken a less prominent role in the campaign.