'Doing the Lord's work' nationwide, one $10,000 tip at a time...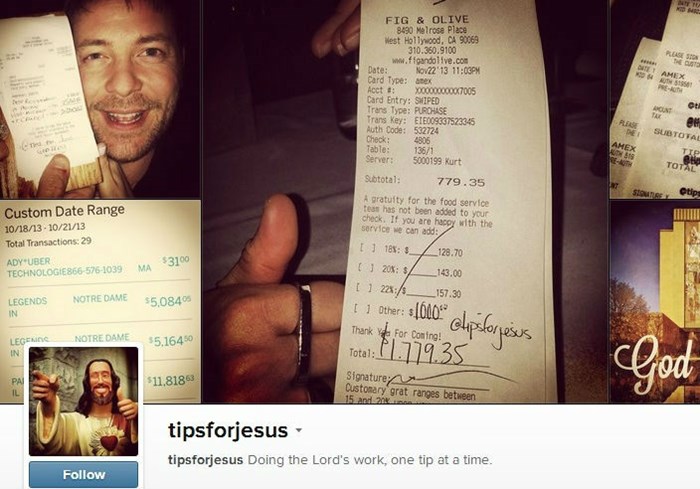 Image: Instagram
Can a $500 tip undo the popular (though questionable) perception that Christians are bad tippers? How about a $3,000 tip? Or a $10,000 tip?
Recently, an anonymous person (or persons) has been masquerading behind the pseudonym "Tips For Jesus," and leaving massive tips at bars and restaurants across America. An Instagram account documents the largess with the tag line, "Doing the Lord's work, one tip at a time."
The estimated total: more than $54,000, according to Gawker. And the tips keep coming.
Eater, a food website, has tracked some of the lucky locations:
"Tips include several in Ann Arbor, Michigan ($3,000 at Tio's Mexican Cafe, $2,000 at the Alley Bar), a few in Chicago ($3,000 at the Boundary, $5,000 at Paris Club), and a whole bunch in Los Angles ($1,000 at Fig & Olive, $10,000 at the Hungry Cat, $500 at Jumbo's Clown Room). TipsForJesus is also taking credit for a spree of big tips left at Ogden, Utah area restaurants back in ...
1