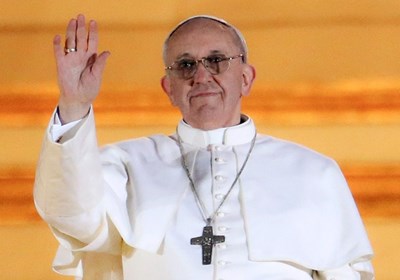 Image: Peter Macdiarmid / Getty
Update (Mar. 15): CT has gathered reactions from evangelical leaders in America and Argentina, including Portland evangelist and native Argentine Luis Palau.
––
Cardinal Jorge Mario Bergoglio, Archbishop of Buenos Aires, has been selected as leader of the worldwide Roman Catholic Church.
Chosen in an election that lacked a clear front-runner among the field of contenders, the Argentine has chosen the name Pope Francis.
He is the 266th leader of the Catholic Church but is the first-ever Jesuit pope. According to Catholic News Service, Bergoglio "was the cardinal with the second-highest number of votes on each of the four ballots in the 2005 conclave" that ultimately selected Benedict instead.
From the Vatican:
Cardinal Jorge Mario Bergoglio, S.J., Archbishop of Buenos Aires, Argentina, Ordinary for Eastern-rite faithful in Argentina who lack an Ordinary of their own rite, was born on December 17, 1936 in Buenos Aires. He was ordained for the Jesuits on December 13, 1969 during his theological studies at the Theological Faculty of San Miguel.

He was novice master in San Miguel, where he also taught theology.

On May 20, 1992 he was appointed titular Bishop of Auca and Auxiliary of Buenos Aires, receiving episcopal consecration on June 27. On June 3, 1997 was appointed Coadjutor Archbishop of Buenos Aires and succeeded Cardinal Antonio Quarracino on February 28, 1998. He is also Ordinary for Eastern-rite faithful in Argentina who lack an Ordinary of their own rite.

He served as President of the Bishops' Conference of Argentina from November 2005 until November 2011.
But in addition to the official reports, Greg Venables, former Anglican Archbishop of the Southern Cone and based in Argentina, offers a look at what Bergoglio "is really like." He writes:
[Bergoglio] is much more of a Christian, Christ centered and Spirit filled, than a mere churchman. He believes the Bible as it is written.

I have been with him on many occasions and he always makes me sit next to him and invariably makes me take part and often do what he as Cardinal should have done. He is consistently humble and wise, outstandingly gifted yet a common man. He is no fool and speaks out very quietly yet clearly when necessary.

He called me to have breakfast with him one morning and told me very clearly that the Ordinariate [creating by the Catholic Church to accommodate alienated Anglicans] was quite unnecessary and that the church needs us as Anglicans.

I consider this to be an inspired appointment not because he is a close and personal friend but because of who he is In Christ. Pray for him.
Bergoglio will replace Pope Emeritus Benedict XVI, who resigned his position at the end of February, citing his "advanced age" and the "rapid changes" of today's world.
Following the resignation, the papal Twitter account, @Pontifex, was deactivated, but it was reactivated just minutes prior to the announcement that Bergoglio had been selected. Minutes after Bergoglio offered his first remarks as Pope Francis from the Vatican balcony, @Pontifex tweeted:
HABEMUS PAPAM FRANCISCUM– Pontifex (@Pontifex) March 13, 2013
Religion News Service has produced a wealth of helpful context surrounding the election, including the top 12 candidates to watch, the significance of the Pope's new name (and popular past picks), a photo gallery of inside the Vatican, and a more lighthearted March Madness Sweet Sistine bracket of top contenders for the position.
CT has regularly reported on Pope Benedict XVI, including why German cardinal Joseph Ratzinger was chosen for an "impossible job" and how he was a "blessing" to evangelicals with lots of promise. CT also noted his encyclical on why you can't just love your neighbor, and his pointing fingers at who killed Jesus.
CT has also regularly reported on Benedict's predecessor Pope John Paul II, as well as the papacy and Catholicism in general.