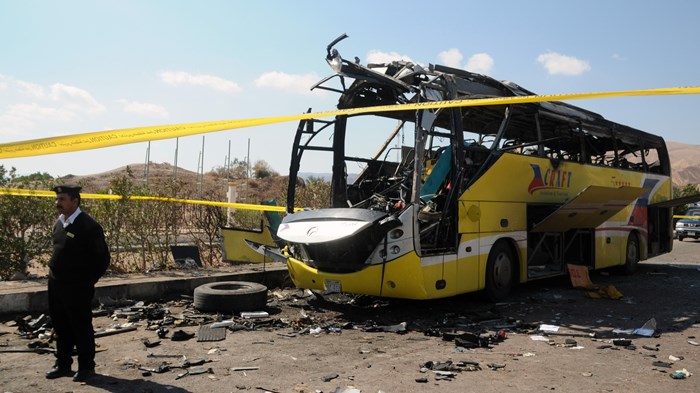 Image: AFP / GettyImages
A bus full of South Korean Christians who saved money for years in order to visit biblical sites in Egypt and Israel were attacked Sunday by a suicide bomber.
Four people were killed in the bombing, including the Egyptian driver, a church member, and two South Korean guides. At least 14 others were injured, the Associated Press reports.
This is not the first time South Korean Christians have been the target of violence in a foreign country. In 2007, after a 43-day hostage situation left two South Korean missionaries dead in Afghanistan, South Korea subsequently banned citizens from traveling to certain majority-Muslim countries—which proved to be a blessing in disguise for Korean Christians.
This time, the 31 churchgoers on the bus came from a Presbyterian church south of Seoul, as they were touring biblical sites in commemoration of the church's 60th anniversary of its founding.
"No one has claimed responsibility for the blast, which bore the hallmarks of attacks blamed on al-Qaida-linked militant groups that have been battling government forces in Sinai's restive north for years," the AP reports.
On Sunday, the church group was about to enter Israel from the Egyptian border town of Taba after visiting an ancient monastery in Sinai. The group had left South Korea last Monday on its 12-day tour of Israel, Egypt, and Turkey.
''My mother was a devout Christian,'' the dead church member's daughter, surnamed Yoon, told South Korea's Yonhap news agency. ''I don't know how such a thing could happen. I don't know how to react to this.''
South Korea has long been known for its zeal for mission work, with nearly 30 percent of the country's population claiming Christianity. They have 20,000 missionaries in 177 countries, ranking No. 6 in the world for sending the most missionaries. Some Korean Christian leaders see the existing travel bans not as a hindrance to missions work, but an opportunity to "focus Korean missions in areas where missionaries are more accepted and more likely to be successful," CT reported.
CT regularly reports on South Korea and South Korean missions, including a 2006 cover story on how Christians in South Korea sent more missionaries than any other country besides the United States.
CT also regularly reports on pilgrimages, including how modern pilgrimage sites and classic pilgrimage sites offer surprising rewards for the Christians who visit them.