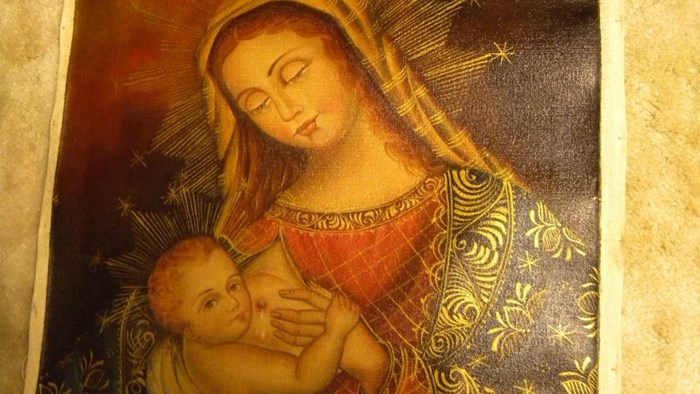 Image: zieak / Flickr
Before the Mommy Wars and weaning debates and the controversial Time breastfeeding cover, there was the Madonna and Child—Jesus, as a baby, nursing at his mother's breast.
Despite the popular depictions of a breastfeeding Jesus throughout history, today's pro-breastfeeding pope has come as a bit of a surprise.
Pope Francis reiterated his support of breastfeeding in public last weekend, amid noisy babies at a baptism ceremony in the Vatican's Sistine Chapel.
"Some will cry because they are uncomfortable or because they are hungry," the Pope said, according to CNN Belief. "If they are hungry, mothers, let them eat, no worries, because here, they are the main focus." At least one mother obliged, breastfeeding her daughter during the ceremony beneath the chapel's famous painted ceiling.
It's not the first time this pope has heard a crying baby and told moms: Let them drink milk. Last month, in an interview with La Stampa, he brought up an incident from a recent general audience (his weekly address, usually held in St. Peter's square):
There was a young mother behind one of the barriers with a baby that was just a few months old. The child was crying its eyes out as I came past. The mother was caressing it. I said to her: madam, I think the child's hungry. "Yes, it's probably time…" she replied. "Please give it something to eat!" I said. She was shy and didn't want to breastfeed in public while the Pope was passing.
In the assessment of Religion News Service's David Gibson, Francis backing breastfeeding in public actually makes him traditional.
The pope's remarks provide affirmation to the women given side-eyed glances—or worse, asked to leave—when they begin to nurse their babies in church. Her.meneutics writer Rachel Marie Stone recalls being sent downstairs to the bathroom when a guard noticed her breastfeeding her son in St. Peter's Basilica.
In her 2012 article "Breastfeeding in the Back Pew," Stone offered this defense of breastfeeding in sacred spaces:
In a culture where breasts are perennially on display—but where breast-feeding is often regarded with disgust or at least embarrassment—allowing mothers to breastfeed in worship would counter how sexualized breasts are in modern culture.

It would also communicate respect for mothers, many of whom feel shunned or outlawed when asked to use segregated rooms to feed their babies. The earthy eloquence of breastfeeding, even in church, would also remind us of both the humanness of our Savior and of God's loving sustenance of us through all the seasons of our lives.
Last week, RNS reported on how nursing in church remains a somewhat uncomfortable issue even as breastfeeding is on the rise among American moms.
CT's Her.meneutics has discussed topics including our squeamishness over breastfeeding terms and the benefits of breastfeeding as a spiritual discipline.
(Photo by zieak / Flickr Creative Commons)