Leading Rabbi Nominated as First Non-Christian Religious Freedom Ambassador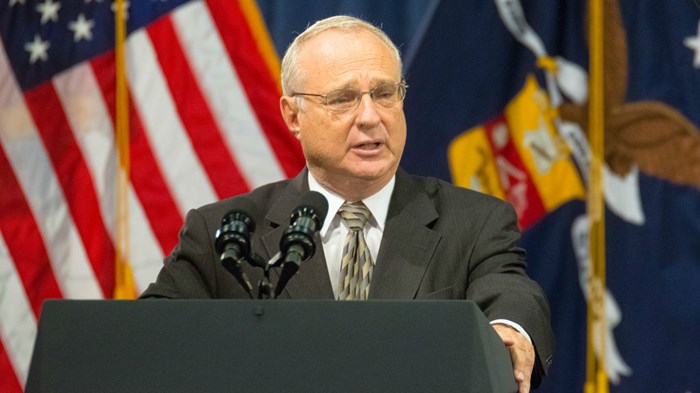 Image: US Department of Labor/Flickr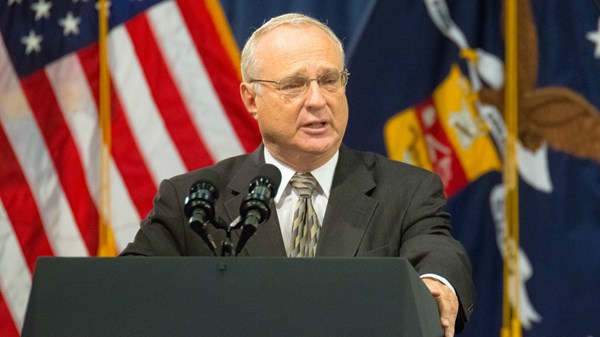 Leading Rabbi Nominated as First Non-Christian Religious ...
President Obama nominated Rabbi David Saperstein this morning to be the next—and first non-Christian—United States ambassador-at-large for international religious freedom.
The press statment said:
Today, President Barack Obama announced his intent to nominate the following individual to a key Administration post: Rabbi David Nathan Saperstein—Ambassador at Large for International Religious Freedom, Department of State. President Obama said, "I am grateful that Rabbi Saperstein has chosen to dedicate his talent to serving the American people at this important time for our country. I look forward to working with him in the months and years ahead."
The previous ambassador at large, African American pastor Suzan Johnson Cook, stepped down from the position in October 2013. This triggered great political pressure on the Obama administration to name a new ambassador-at-large quickly since religious freedom has been a contested issue in Africa, the Middle East, and Asia. Previously, Bob Seiple and John Hanford served in the position, which was created in 1998 as part of the International Religious Freedom Act.
Later today, the State Department released a major report on the state of international freedom. This is against the backdrop of ongoing conflict in Nigeria, Israel/Palestine, Iraq, and Syria—all conflicts with religious underpinnings.
Saperstein, 66, is a widely recognized figure. According to the White House:
He is director and counsel of the Religious Action Center of Reform Judaism, where he has served since 1974. He is also an Adjunct Professor of Law at Georgetown University Law Center, where he teaches First Amendment Church-State Law and Jewish Law.
Saperstein serves on a number of boards, including the Leadership Conference on Civil and Human Rights and the National Religious Partnership for the Environment. He was a member of the President's Advisory Council on Faith-Based and Neighborhood Partnerships from 2010 to 2011. Saperstein was a member of the U.S. Commission on International Religious Freedom from 1999 to 2001, serving as its first Chair from 1999 to 2000. He received a BA from Cornell University, an MHL from Hebrew Union College, and a JD from American University.
Later in the day, leading Christians began to comment:
"Rabbi Saperstein is well respected on these matters and has been engaged on these issues for a long time. I welcome this nomination. It is a good nomination. I ask that the Senate confirm Rabbi Saperstein quickly," said House Rep. Frank Wolf, a key GOP leader on religious freedom.
"On Friday, the House passed legislation that creates the position of Special Envoy for Religious Minorities in the Middle East and South Central Asia. This was bipartisan legislation that was introduced with Congresswoman Anna Eshoo," Wolf said. "Our office worked closely with our former colleague Senator Roy Blunt. I call on the president to sign this bill quickly, and to fill as quickly as possible. Time is of the essence. We can't afford to wait any longer. Christianity as we know it is being wiped out right before our very eyes in Iraq."
From the SBC:
"I applaud President Obama for making a nomination to the important position of Ambassador-at-Large for International Religious Freedom, a position that plays a key role in our nation's responsibility to act on behalf of the persecuted around the world," said Russell Moore, president of The Ethics & Religious Liberty Commission of the Southern Baptist Convention.
"Rabbi Saperstein is a respected thinker and leader who brings gravity to this important task. He has my prayers and my pledge of full cooperation. The downgrade of religious freedom and the persecution of religious minorities around the world must end."
From a fellow with the Institute on Global Engagement:
"Rabbi Saperstein's nomination should have come much sooner, but it was worth waiting for. For two decades David Saperstein has been the rabbi of religious freedom—in Washington and around the world. He's a respected expert on religion-state issues and a key leader in the fight against persecution. In a time when 'religious freedom' is frequently used as a partisan wedge, Rabbi Saperstein enjoys broad bipartisan support.
"Saperstein is the right person to take on this daunting task. It's customary to say a successor has big shoes to fill, but in Saperstein's case he has a big hole to dig out of. The U.S. government's credibility on international religious freedom issues has reached a low point thanks to the disappointing tenure of the previous ambassador at large, Suzan Johnson Cook. Saperstein will need to restore confidence in American religious freedom advocacy," said Judd Birdsall, who previously served in the State Department's Office of International Religious Freedom.
From Sojourners:
"Given the importance of this issue in the world today, I can think of no better leader to serve as the U.S. Ambassador-at-Large for International Religious Freedom than David Saperstein. As a friend and fellow advocate for justice, I know he brings the courage, dedication, and passion for protecting religious freedom that is necessary for success in this role," said Jim Wallis, president and founder of Sojourners.
The nomination upstaged today's release of the State Department's annual, comprehensive report on international religious freedom. The report acknowledged that robust religious freedom faces enormous challenges around the world:
In 2013, the world witnessed the largest displacement of religious communities in recent memory. In almost every corner of the globe, millions of Christians, Muslims, Hindus, and others representing a range of faiths were forced from their homes on account of their religious beliefs. Out of fear or by force, entire neighborhoods are emptying of residents. Communities are disappearing from their traditional and historic homes and dispersing across the geographic map. In conflict zones, in particular, this mass displacement has become a pernicious norm.
The report can be accessed here and includes new database features allowing users to build a country-specific report, or download a PDF copy. A quick read of the executive summary shows that no major region of the world, from the Americas, to the EU zone and Asia, has been completely free of abuse of religious freedom by nation-states or extremist groups.
As required by federal law, the State Department names the worst violators of religious freedom as "countries of particular concern." For the first time, Turkmenistan will join these nations as "CPCs": Burma, China, Eritrea, Iran, North Korea, Sudan, Saudi Arabia, and Uzbekistan.
During a Monday press briefing on religious liberty, which Saperstein attended, Secretary of State John Kerry said, "When 75 percent of the world's population still lives in countries that don't respect religious freedoms, let me tell you, we have a long journey ahead of us. We have a long way to go when governments kill, detain, or torture people based on a religious belief.
"North Korea stands out again in this year's report for its absolute and brutal repression of religious activity. Members of religious minorities are ripped from their families and isolated in political prison camps. They're arrested and beaten, tortured and killed. And we've seen reports that individuals have been arrested for doing nothing more than carrying a Bible.
"North Korea is not alone. Earlier this month, Chinese officials sentenced Christian pastor Zhang Shaojie to 12 years in prison for peaceful advocacy on behalf of his church community. And just last week, I welcomed the release of Meriam Ishag, a mother of two young children who had been imprisoned on charges of apostasy in Sudan. From South Asia to Sahel, governments have silenced members of religious groups with oppressive laws, harsh punishments, and brutal tactics that have no place in the 21st century.
"In Iran, U.S. Iranian citizen Pastor Saeed Abedini remains imprisoned. The Iranian authorities sentenced him to eight years behind bars simply because of his religious beliefs. We will continue to call for his release and we will continue to work for it. And make no mistake: We will continue to stand up for religious minority communities under assault and in danger around the world, from Jehovah's Witnesses to Baha'is to Ahmadi Muslims. So we have a long way to go to safeguard these rights."
Christianity Today closely follows religious freedom policy, including how some critics believe the Obama administration has failed to make religious freedom a priority.
[Photo credit: U.S. Department of Labor/Flickr]

07/28/2014